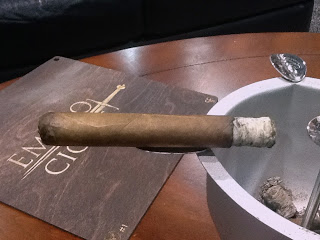 Draig Cayuquero by Emilio Cigars
The Draig Cayuquero is the second installment in Emilio Cigars' Draig series. The Draig concept was announced back in December 2011. The concept would be to produce a small batch, limited production cigar – using a different factory and a different blend each year. In 2012, the first Draig – called the Draig K was introduced. The Draig K cigar used a unique Colombian Cubanito Maduro wrapper. We considered it a game-changer and it finished as our #15 Cigar for 2012. For the Draig Cayuquero, we get a completely different blend, but as we will discuss, this cigar will have its own unique spin when it comes to wrapper. Recently I had a chance to smoke the Draig Cayuquero, and overall I found this to continue Emilio's great track record of solid smokes.
When the Draig Cayuquero was announced, Emilio Cigars Brand Developer Gary Griffith a published the following post on Facebook: "There is a small town in the far western part of Pinar del Rio, Cuba, called El Cayuco. Some of the locals are known as "Cayuqueros" which translates loosely as "trouble makers." One of these problem children is a dear friend, and in his honor I am announcing that this year's Draig Limitado will be a joint effort with Noel Rojas."


In regards to Noel Rojas, he is the person behind Guayacan Cigars – one of the eight current companies distributed by Emilio's distribution arm, the House of Emilio.
At this point, let's break down the Draig Cayuquero and see what this cigar brings to the table. Since what we smoked was a pre-release sample, we will default to our "pre-review" format. With this format we share our thoughts and experience with the cigar. When the cigar arrives at retailers, we will revisit this cigar again and assign an assessment rating and score. As a disclaimer, this cigar experience was based on smoking a single cigar.
Blend Profile
As we mentioned up-front, the wrapper is once again a story involving a Draig release. In this case, the Draig Cayuquero uses a Brazilian Arapiraca wrapper. Our observations of this particular Arapirica wrapper were like no other. When looking at potential wrapper candidates, Griffith narrowed things down to a single bale. The wrapper has a lighter color and Griffith explained because that is because the tobacco is fermented at a cooler temperature.
Wrapper: Brazilian Arapirica
Binder: Nicaraguan
Filler: Nicaraguan
Vitolas Available
The Draig Cayuquero will be available in the same three frontmark formats as the Draig-K:
Corona
Robusto
Toro
Appearance
For this cigar experience, I smoked the Toro-sized vitola. As mentioned this is not going to be your typical Brazilian Araparica wrapper. This is not going to be a dark, coffee colored wrapper. The Draig Cayuquero has more of a medium-brown oak-colored wrapper. I would not describe this wrapper as oily. There are some visible veins and wrapper seams on the surface of the wrapper.
The cigar sample I smoked was unbanded.
Preparation for the Cigar Experience
For my smoke of the Draig Cayuquero Toro, I went with my usual choice of a straight cut to remove the cap. I immediately moved on to the pre-light draw. I was treated to a combination of natural tobacco, wood, and some mild pepper notes. Overall I considered this cigar to have a satisfactory pre-light draw. At this point I was ready to light up my Draig Cayuquero and see what this cigar would have in store.
Flavor Profile
The start to the Draig Cayuquero picked up where the pre-light draw left off in terms of the natural tobacco, wood, and spice. The spice was different and unorthodox – something typically I've noticed to be the case with several Emilio Cigar releases. This particular spice had a two-dimensional quality in terms of being an herbal spice. This herbal spice was not only present on the tongue, but also prominent on the retro-hale.
As the Draig Cayuquero moved through the first half, the natural tobacco became a primary flavor. The herbal spice notes were a close secondary note. There also was a slight citrus flavor that was a bit on the acidic side. In the first half, I found the citrus flavor was more subtle – and floated between a secondary and tertiary flavor. The wood notes dissipated.
In the second half, the citrus notes got a littler sweeter and moved into the forefront – along with the herbal spice. This seemed like an odd combination of primary flavors, but somehow they worked well together. The natural tobacco flavors were now more of a secondary note and it gave the primary flavors some nice supplemental flavor.
The flavor profile held until the end of the cigar. The end of the cigar was flavorful – and there were no harshness. The resulting nub was cool in temperature and soft to the touch.
Burn and Draw
For the most part Emilio Cigars have consistently had excellent scores when it comes to burn and draw. Last year, there were numerous reported burn issues around 2012's Draig K. Much of this was due to the sensitivity of the Colombian Cubanito Maduro wrapper to external elements. Overall, we still scored the Draig K burn good, but it fell a little short of excellent. I mention this because there were no such problems that I observed with the Draig Cayuquero's Arapiraca wrapper. This one burned sharp from start to finish – requiring minimal touch-ups. The resulting ash was tight with a nice white color to it. The burn rate and burn temperature were ideal.
The draw was excellent on this particular cigar. Normally I like a little resistance on the draw, and while the Cayuquero did not have any resistance, it did not have any negative attributes surrounding its draw. This was an enjoyable cigar to smoke.
Strength and Body
When it came to the attributes of strength and body, I found the Draig Cayuquero to be an excellent cigar when it comes to the balance between these two attributes. I also found that both attributes increased in intensity as the cigar experience progressed. From a strength standpoint, the Cayuquero starts out medium to full strength in the first half. By the second half, the Cayuquero moved into the full-strength area of the strength spectrum. The depth of the flavors follow a similar pattern – starting off medium to full-bodied in the first half. These flavors progress to full-bodied in the second half.
Final Thoughts
Brazilian Arapirica wrappers have always been a mixed bag for me. When they are on, they are on and when they are off, they are off. I never really occurred this was the case for me until I talked to Griffith about this wrapper. Griffith pointed to me that there are times the Arapirica wrapper can produce musty flavor note. It was at that point where I realized why there are times Arapirica wrapper can miss the mark for me. Griffith told me the lower fermentation temperature helped avoid this happening with the Draig Cayuquero.
While I'm not sure the Cayuquero can be considered a game-changing cigar, it is going to deliver a very different experience in terms of a Brazilian Arapiraca cigar. It isn't going to have as much of the exotic flavors that the Draig K had, but it still is going deliver some very good and unique flavors. I'd probably still steer this cigar to a more experienced cigar enthusiast – especially since it does have a fuller profile. As for myself, if the Draig Cayuquero continues along this path once its released, this is certainly a box-worthy purchase in my book.
Summary
Burn: Excellent
Draw: Excellent
Complexity: Medium
Strength: Medium to Full (1st Half), Full (2nd Half)
Body: Medium to Full (1st Half), Full (2nd Half)
Finish: Good
Source: The cigar for this assessment were provided by Emilio Cigars . These samples were initiated by Emilio Cigars in order to provide feedback. Cigar Coop is appreciative for the sample, but in no way does this influence this review.