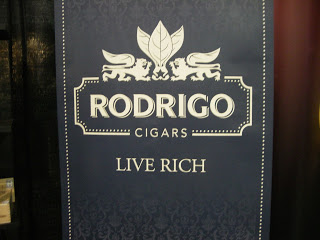 At 2013 IPCPR Trade Show, Rodrigo Cigars discussed some plans for an upcoming project that will be starting this Fall called "The Corona Project".
In terms of the Corona Project, company President George Rodriguez says the concept behind it was to make the very "best corona (vitola) he can make" with an "undisclosed wrapper". The plan is to follow two additional corona size release – these will have the same size and same binder/filler, but have a different wrapper. The three releases will be staggered with the first release planned for this Fall.
Rodrigo Cigars was the first company to enter into an agreement for Gary Griffith's Emilio Cigars to handle distribution of their products. During our discussions with Rodriguez, he seemed very pleased with how the arrangement has been working. The company currently has three lines: Habano Clasico, Boutique Blend, and La Fortaleza.