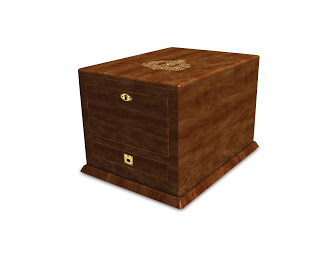 Partagas 150 Commemorative Humidor
General Cigar Company has announced it is releasing a limited quantity of the much sought after Partagas 150 Signature Series. Typically these have not been made available for purchase, but will be made available packaged in an ultra-premium commemorative humidor. There will be three frontmarks packaged in the humidor. The announcement was made at the 2013 IPCPR Trade Show in Las Vegas.
The Partagas 150 Signature Series was originally released in 1995 by master cigar maker Ramon Cifuentes to commemorate the 150th anniversary of the Partagas brand.
The Partagas 150 Signature Series got its reputation from its rare Cameroon wrapper leaf that was harvested from 1977.
The commemorative humidor is a piano finished, burled wood humidor with an inlaid Partagas 150 crest. It also contains a custom humidifcation device. The humidor contains a total of 150 cigars including the AA, B, and C vitolas. The cigars will be rested in drawers lined with royal red velvet.

The suggested retail price of the package is $9,999.
Blend Profile
For each of the vitolas in the Partagas 150 series, the blend profile is:
Wrapper: Cameroon (Rare 1977)
Binder: Mexican
Filler: Mexican, Dominican
Vitolas Available
The following are the frontmarks packaged in the commemorative humidor:
AA (Double Corona): 7 1/2 x 49
B (Grand Corona): 6 1/2 x 47
C (Robusto): 5 1/2 x 49
For completeness, we list the other frontmarks made available in this blend (not packaged with the humidor):
A (Lonsdale): 6 3/4 x 43
D (Panatela): 5 x 38
Robusto: 4 1/2 x 49
Don Ramon: 7 x 52