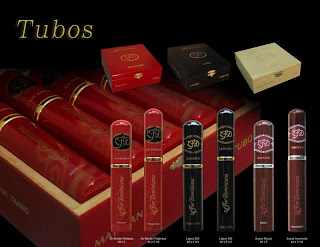 La Flor Dominicana will be making select vitolas in three lines available in tubes. Two sizes La Flor Dominicana's Ligero, Air Bender, and Suave lines will be packaged in ten count boxes. Each blend will have its own tube design. The new tubos will launch at the 2013 IPCPR Trade Show. Information of this release was made via a press release by La Flor Dominicana.
Last year, La Flor Dominicana announced Crystal Tubos being offered in the Double Ligero line. It also announced the Oro line which is packaged in gold colored tubes.
The Ligero Tubo 100 size appears to add a corona-size to the Ligero line measuring 5 1/2 x 42.
The following will be the sizes in each line that will be made available in tubes:
Blend Profile and Vitolas Available (Tubos)


Ligero


Wrapper: Ecuadorian Sumatra
Binder: Dominican La Canela
Filler: Dominican La Canela
Tubo 250: 4 3/4 x 48
Tubo 100: 5 1/2 x 42
Air Bender
Wrapper: Ecuadorian Habano
Binder: Dominican
Filler: Dominican
Matatan: 5 x 50
Poderosa: 5 1/2 x 42
Suave
Wrapper: Connecticut Shade
Binder: Dominican
Filler: Dominican
Maceo: 5 x 48
Insurrecto: 5 1/2 x 42
Source: Information for this article was received in a press release from La Flor Dominicana.