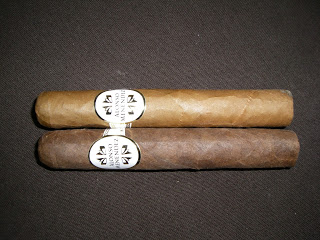 Alonso Menendez (Connecticut and Mata Fina)
Dona Flor USA announced the Alonso Menendez line of Brazilian Cigars will now be available for distribution.  The announcement was made in a press release received by Cigar Coop.
Alonso Menendez Cigars, like Dona Flor Cigars are manufactured by Menendez Amerino.  Menendez Amerino is a collaboration between cigar maker Felix Menendez and Brazilian tobacco grower Mario Amerino.  The company has been in business for over 35 years, but it was last year when it was announced that the Dona Flor line of cigars would now be made available in the United States market.   Both the Alonso Menendez and Dona Flor lines had been available for some time, but not in the United States market.  Dona Flor USA is handling the distribution.
Alonso Menendez was the first to be manufactured by Menendez Amerino.  It was done under the guidance of the legendary Benji Menendez.  Both Benji and Felix Menendez are the sons of Alonso Menendez.  Alonso was well known to be the creator of the Montecristo and Montecruz brands.  While Benji would move on to General Cigar, Felix would settle in the Bahia region of Brazil and run operations at Menendez Aramino.
The Alonso Menendez is available in both a Mata Fina and a Connecticut Shade wrapper.  The blend uses both Mata Fina and Mata Norte tobacco.  No specific details on which cigars and what sizes will be made available.
In terms of what Brazilian tobacco brings to the table  Felix Menendez states, "Brazilian tobacco is some of the finest tobacco on the earth.  And the fact that its flavor characteristics are so close to the Cuban tobacco is why we are here. Mata Fina tobacco, grown only in Brazil, is unsurpassed for it's dark, creamy, smooth and naturally sweet flavorful profile without any bitterness. It is truly unique."
Dona Flor USA indicated that plans were in place already to introduce the line at the 2013 IPCPR Trade Show in Las Vegas this July.
Source: Some information for this article was received in a press release by Cigar Coop.