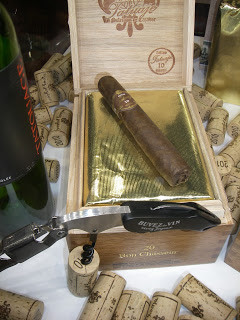 Tatuaje 10th Anniversary Bon Chasseur
As we have been following for several months now, Tatuaje Cigars is releasing three special versions of its Seleccion de Cazador Brown Label for the company's 10th Anniversary. These special versions are new sizes for the Brown Label with some blend tweaking for the frontmark. At the 2013 IPCPR, Tatuaje showcased the cigars and the packaging of two of the sizes.
The Tatuaje 10th Anniversary Bon Chasseur will be a 5 3/8 x 52 parejo-shaped cigar with a covered foot. Meanwhile the 5 3/8 x 48 perfecto is being known as Belle Encre. Both cigars are packaged in gold foil and in boxes of 20. The boxes are special commemorative varnished boxes that differ from the core Brown label line. They also have a special Tatuaje 10th Anniversary band.
The translation of Bon Chasseur and Belle Encre are "Good hunter" and "beautiful ink" respectively.
Both the Bon Chasseur and Belle Encre are being produced for a limited run. There is also a special third size, a 6 3/8 x 54 parejo that is being produced for the TAA (Tobacconist Association of America). That size was not on display. Consistent with the Brown Label series, all three use an Ecuadorian Habano wrapper over Nicaraguan binder and filler. We previewed the blend and sizes back in June.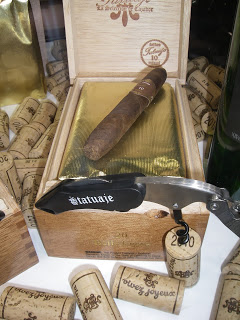 Tatuaje 10th Anniversary Belle Encre
Earlier this year, Tatuaje re-released the original six sizes of the Brown Label blend with special commemorative 10th Anniversary banding and gold foil packaging. These vitolas include: the original six sizes Noella, Regio, Havana Cazadores, Especiales, Taino, & Unico. After this year, these cigars will revert to the standard Brown Label banding and packaging. The Bon Chasseur, Belle Encre, and TAA releases are vitolas previously unreleased.