It was about 18 months ago, when I met with Gershon (Gregory) Aizenman at Cuban Crafters in Miami, Florida and learned about his line called Senor Solomon Cigars. Aizenman along with Cuban Crafters' founder Don "Kiki" Berger are the two principals behind the company. The unique proposition of Senor Solomon Cigars is that the cigars are certified Kosher for Passover. Senor Solomon currently makes two cigars – a Natural and a Habano Maduro. At the 2013 IPCPR Trade Show, I had the opportunity to catch up with Aizenman and learn what's going on new at Senor Solomon Cigars.
Background on Senor Solomon Cigars
For many Jews around Passover time, Kosher certification is must when it comes to everyday life. The initial press release launching Senor Solomons explains this process very well. In that press release, Aizenman explains, "..at Passover Jews are, by Biblical law, required not to have in their possession fermented or leavened grains and, according to Eastern European custom, this injunction extends to beans such as soy, red, peanuts, rice, and the like." Aizenman then explains how this factors into the production of cigars: "While there have been arbiters that maintain we need not be concerned about additives in tobacco; however now, since cigars are not regulated as to additional ingredients, most cigar manufacturers have routinely experimented with various additives to improve taste and color. That is not the case with the way Senor Solomon cigars are made."
Senor Solomon Cigars carry a KSA (Kosher Supervision of America) kosher certification to ensure the cigars meet these restrictions. An added benefit is that the strict standards that go into making a Kosher cigar will yield a high quality product that can smoked year round – even when Kosher standards are not required.
The cigars are made at Berger's factory in Nicaragua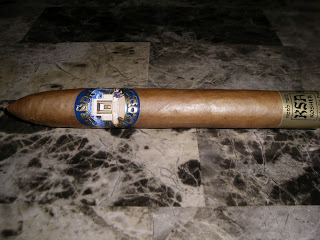 Senor Solomon Natural


Stabilization of the Senor Solomon line


The production of a Kosher for Passover Cigar process did not come without impact for Berger's factory. Because of the strict Kosher standards that must be employed, production of non Senor Solomon had to be shut down because they would not allow any other leaf or product in the factory. This involved limited time windows to reserve the factory to make Senor Solomon cigars. As a result, this led to increased costs and more difficult logistics making the cigars.
To alleviate this problem, this past February a separate building was leased right next to Berger's factory dedicated to production of Senor Solomon. The Kosher production supervisor is the only one who has the key to this facility. A team of six to eight rollers come in to make the cigars – and the cigars also sit and rest in this factory. Once those cigars ship, the production cycle starts again.
Aizenman feels this has alleviated the logistical problems associated with making Senor Solomon in the past. He feels it has resulted in a product in increased quality. It also has helped Senor Solomon become more competitive in price – and the cost savings have translated to the Consumer end. The Robusto vitola of the line now has a price point around $7.50 per cigar.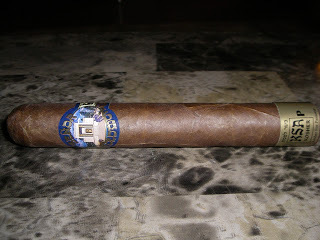 Senor Solomon Maduro
What's new and what's coming?
Aizenman has been busy expanding the Natural and Maduro lines. At the top of list is a 4 1/2 x 54 perfecto (ring gauge at its widest point) called JLS (Just a Little Smoke). The price point is in the $4.00 to $5.00. For the first shipment, there were 50,000 cigars made. The cigar proved to be so popular they were sold before they were boxed or labeled. Many customers wanted them in bundles and they sold out in a 1 1/2 months.
Earlier this year, Senor Solomon added a 6 1/2 x 54 vitola to its Maduro line. That cigar is sold in boxes of 20 or naked bundles.
Aizenman also told us of a project that is involving soaking filler tobacco leaves in Cognac. He pointed out this is not an infusion process, but an actually soaking the leaves for ten days in pure Cognac before rolling the cigar. He has gotten extremely positive feedback from customers who sampled.
Final Thoughts
Our experiences with the Senor Solomon products has been extremely positive as the Natural and Maduro scored a 90 and 91 respectively on Cigar Coop. Many people are also seeing the quality of the smokes by this company. When we talked to Aizenman back in March of 2012, much of his distribution had been focused in areas of Florida and New York. Since then the company has expanded its base to 147 retailers nationwide. Aizenman is very excited about the changes at Senor Solomon. No doubt, the future looks bright for Senor Solomon Cigars.