Assessment Updates will be posted on this web-site to: 1) Assess "pre-review" cigars that were not given a rating or score (typically pre-release cigars); 2) Provide numeric ratings to cigars previously assessed prior to the implementation of the numeric scoring system; 3) A re-assessment and re-score of a previously assessed/score cigars. Today, we provide a score for the La Flor Dominicana Colorado Oscuro 2013. This was a cigar we assessed with the 2011 release back in August 2011.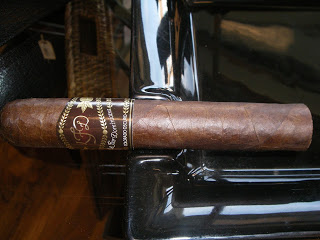 La Flor Dominicana Colorado Oscuro (2013)
Back in 2011, La Flor Dominicana unveiled its Colorado Oscuro line. This line has been positioned as a limited production annual release. Just prior to the 2013 IPCPR Trade Show, we reported that La Flor Dominicana was indeed releasing the Colorado Oscuro once again. It would come in the same blend and sizes. With this year's batch we discovered a cigar that had better construction and was more mature in its flavors. This cigar was definitely was a nice surprise.
The blend features a very oily Ecuadorian Sumatra wrapper. There is also a Dominican Sumatra binder while the fillers are Nicaraguan and Dominican. The cigar is available in four sizes: No 2 (4 1/4 x 48), No 3 (5 x 50), No 4 (5 1/4 x 54), and No 5 (5 3/4 x 60). For this assessment update, I revisit the same size as I smoked back in 2011 – the No. 5.
The Colorado Oscuro starts out with a blast of pepper. In the early stages, The pepper receded to the background early as notes of grass and earth surfaced in the forefront. A coffee note also surfaced in the background. The coffee note gets stronger and richer as the smoke progresses. By the second third, this flavor evolved to more of a classic chocolate note. In the last third, the pepper re-emerges as a primary note. Even though this cigar was part of a 2013 batch, I found the flavors more mature. I still assessed the Colorado Oscuro as medium to full-bodied.
As for the strength, this cigar was a powerhouse. I might have underestimated the punch the cigar had. It's definitely in the full strength range from start to finish – and the strength does increase along the way. While there is good flavor in this smoke, the strength does have the advantage over the body.
I found much improvement in the construction as well – especially with the burn. In 2011, the burn was a big battle and I scored it "Fair" because it required many touch-ups. This time I scored it "Excellent" as it remained straight from start to finish requiring what I term minimal touch-ups. The draw was excellent as well.
Click here for our original assessment of the La Flor Dominicana Colorado Oscuro.
Assessment: Nice to Have
Score: 90
Source: The cigars for this Assessment Update were purchased from Outland Cigars in Charlotte, North Carolina.