Assessment Updates will be posted on this web-site to: 1) Assess "pre-review" cigars that were not given a rating or score (typically pre-release cigars); 2) Provide numeric ratings to cigars previously assessed prior to the implementation of the numeric scoring system; 3) A re-assessment and re-score of a previously assessed/score cigars. Today, we provide an assessment rating and score for the Lou Rod by Lou Rodriguez Cigars. This was a cigar we did a pre-release review in July, 2013.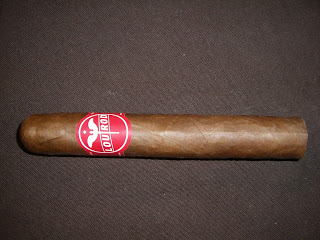 Lou Rod by Lou Rodriguez Cigars
The Lou Rod is a new cigar by Lou Rodriguez Cigars that was launched at the 2013 IPCPR Trade Show. Just prior to the IPCPR Trade Show, we broke news of the blend information as well as did a pre-release review. The Lou Rod marked a major change in direction for Lou Rodriguez Cigars. The Lou Rod introduces a more budget friendly cigar ($5.95 SRP) with simpler packaging, but it also introduces the company's first rounded 6 x 60 cigar. Now that the Lou Rod has been released, we have had a chance to revisit this cigar again. This cigar continues to perform as well as it did with the pre-release review, and continues the company's excellent track record.

The Lou Rod features a Sun-Grown wrapper over proprietary Nicaraguan binder and filler. Lou Rodriguez Cigars is a true vertically integrated company as they own their own factory, distribution, and farm – so the Nicaraguan tobacco comes their own farm. The Lou Rod was blended specifically with the big ring gauge in mind. It was initially launched in a 6 x 60, and the company is now adding a 4 1/2 x 60 called the Snub Nose. In this assessment update, we revisit the 6 x 60 size we initially smoked.
I recently discussed the flavor profile our Stogie Geeks podcast and here is what I wrote in the cigars of the week summary for that show:
It was very clear that the company put a lot of focus on making a blend specifically for this larger ring gauge. In my opinion, this cigar hits on all cylinders. The cigar produces flavor of natural tobacco, coffee, cream, and toast. Seth's Humidor made a comment that the cigar has a marshmallow sweetness to it and I agree. Both the strength and body start out medium for the first half. By the last third both attributes progress to medium to full.



The construction is top-notch on this cigar. The burn and draw are consistently excellent finishing with a cool firm nub. This is everything a 6 x 60 cigar should be.
Assessment: Nice to Have
Score: 92


Source: The cigars for this Assessment Update were purchased from Burners Cigars' in Huntersville, NC.