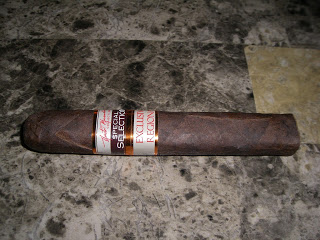 Nestor Miranda Special Selection Exclusivo Regional
Miami Cigar and Company's Nestor Miranda Special Selection Exclusivo Regional is a limited production cigar that will be a regional exclusive to the Midwest United States. From a blend perspective, the big differentiator is that this particular cigar will use a San Andres Mexican wrapper. This wrapper is not new to a Nestor Miranda branded cigar. Last year, the Danno 2012 used this wrapper. The wrapper worked very well on that cigar and it came in as our #26 Cigar for 2012. At times, I've been critical of San Andres wrappers, but given how well it worked for the Danno, I had high expectations for the Exclusivo Regional. In this case, I think the jury might still be out. My gut tells me if in general a fan of San Andres wrappers, you will love this cigar. Otherwise, this might be a case where you want to wait and see.

My big complaint with the Mexican San Andres wrapper is not from a quality standpoint, but more from a flavor standpoint. I find with some blends it can overwhelm and create a sharp, pungent spice. With other blends (such as the Danno 2012), it can work some magic. As we will see, there are still a lot of positives with this cigar. As I mentioned, I do believe the cigar enthusiasts who love what this wrapper brings to the table will love this cigar.
Without further ado, let's break down the Nestor Miranda Special Selection Exclusivo Regional and see what this cigar brings to the table. Since these were pre-release cigar provided, we will default to a pre-review to share our thoughts and perspectives. At some later point in time, we will revisit this cigar and provide an assessment rating and score.
Blend Profile

In addition to the San Andres Mexican wrapper, this cigar features Nicaraguan binder and filler.
Wrapper: San Andres Mexican
Binder: Nicaraguan
Filler: Nicaraguan

Vitolas Available

The cigars will be available in two box-press sizes with a box production of 500. It is worth noting that sizes are also offered in the three core lines.

Robusto Extra: 5 1/2 x 54
6 x 60: 6 x 60
Appearance
For this cigar experience, I smoked the Robusto Extra. The Nestor Miranda Special Selection Exclusivo Regional Robusto Extra has a nice combination of coffee bean and colorado red as its color. Upon closer examination of the wrapper, there is some darker marbling that is visible. I would not categorize this wrapper as oily. The surface of the wrapper has a bit of a rough feel to it. There are visible veins and wrapper seams. As for the box-press it is well-packed with no soft spots. Overall, I found the cigar's ruggedness gave it some charm.
The first band is the same band that is found on the Nestor Miranda Special Selection for its core line Rosado and Oscuro options. The band consists of copper striping at the top and bottom. In between the copper striping is a large pewter-colored stripe and a large brown-colored stripe. On the pewter-colored stripe it says "Nestor Miranda" in red cursive font. Just under that text it says "COLLECTION" (also in red font). On the brown stripe it has the text "SPECIAL" on one line and "SELECTION" just below it – all in brown font.
There is a secondary band that rests just below the primary band. It also has a pewter background color with copper bordering. On that band it says "EXCLUSIVO REGIONAL" in red.
Preparation for the Cigar Experience
For my smoking experience of the Nestor Miranda Special Selection Exclusivo Regional, I went with a straight cut to start things off. Once the cap was successfully removed, I was ready to begin the pre-light draw ritual. The dry draw produced deep coffee and cedar spice notes. Overall, there definitely was some boldness to the dry draw of the Nestor Miranda Special Selection Exclusivo Regional. Given what I considered to be a positive pre-light draw, I was ready to light up the Exclusivo Regional and see what the smoking phase had in store.
Flavor Profile
The Nestor Miranda Special Selection Exclusivo Regional starts out with short blast of black pepper. Some strong roasted coffee notes join the pepper very early. The pepper can be felt on the tongue and on the retro-hale. Both the coffee and pepper notes displayed some pungent qualities right out of the gate.
The second third was probably the best part of this cigar. The pepper notes subsided and lost some of that pungency. The coffee notes took on some espresso syrup qualities and were now the primary flavor. There was also some citrus and cream with the pepper in the background.
The last third, saw the pepper and coffee combination become more pungent again. The Exclusivo Regional also lost the creaminess it had in the second third. While the pepper was sharp at the end, it was never harsh. The resulting nub was outstanding – cool in temperature and firm to the touch.
Burn and Draw
From a burn perspective, I found that the Nestor Miranda Special Selection Exclusivo Regional performed very well. The burn line was a little jagged – but never was in any danger of getting very uneven or of canoeing. The resulting ash was nice with a nice white color to it. The burn rate and burn temperature were ideal.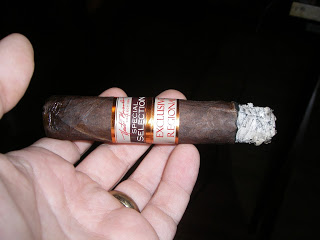 Nestor Miranda Special Selection Exclusivo Regional – Burn
The draw was excellent on the Exclusivo Regional. It was not too tight and it was too loose. It made this a low maintenance cigar to puff on.
Strength and Body
From a strength perspective, I did find the Nestor Miranda Special Selection Exclusivo Regional had a little bit of kick to it. I found this cigar had enough strength to qualify as a medium to full strength cigar. As for the flavors, they definitely exhibited some boldness. I assessed the Exclusivo Regional as being a full-bodied smoke. With the case of this cigar, the body definitely had the edge over the strength. While I didn't think this was a young cigar, I do think some aging may mellow both the strength and body of this cigar.
Final Thoughts
As I mentioned above, if you are a cigar enthusiast who does like San Andres Mexican wrapper, the Nestor Miranda Special Selection Exclusivo Regional is probably going to be a cigar you like. While this cigar did not fit in my wheelhouse, I still some enthusiasts where it is in their flavor profile. How the flavors hit your senses once you start smoking it will be up to you. I do see some aging potential with the Exclusivo Regional, so much of the sharpness/pungency I sensed in the flavor profile could mellow a bit. This is going to be a cigar I revisit in the next few months because I am curious to see what it does.
Summary
Burn: Excellent
Draw: Excellent
Complexity Low
Strength Medium to Full
Body: Full
Finish: Good

Source: The cigar for this assessment was provided by Miami Cigar and Company. The sample received was in order to provide feedback. Cigar Coop is appreciative for the samples, but in no way does this influence this write-up.