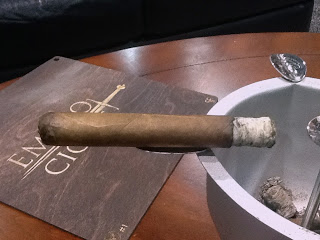 Pre-Release of the Draig Cayuquero
Emilio Cigars brand developer Gary Griffith has announced the second release in the Draig Series, the Draig Cayuquero will begin shipping to retailers in the next few weeks. The release was originally going to be in three sizes, but the company also announced there will be a "small run" of a torpedo vitola will be included.
The Draig series is intended to be an annual release to produce a small batch, limited production cigar – using a different factory and a different blend each year. Last year the series launched with the Draig K – a cigar that finished as our #15 Cigar for 2012.

The Draig Cayuquero is a completely different blend than 2012's Draig K. When the Draig Cayuquero was announced, Emilio Cigars Brand Developer Gary Griffith a published the following post on Facebook: "There is a small town in the far western part of Pinar del Rio, Cuba, called El Cayuco. Some of the locals are known as "Cayuqueros" which translates loosely as "trouble makers." One of these problem children is a dear friend, and in his honor I am announcing that this year's Draig Limitado will be a joint effort with Noel Rojas."
Final banded product of Draig Cayuquero
There will be a total production of 1600 boxes and according to Emilio Cigars the quantity per size will vary based on how the wrapper graded out. Originally the Cayuquero was going to mimic the three vitolas for the Draig K, but a decision was made to add the torpedo vitola (not seen on the Draig K). The cigars will be dedicated to Griffith's Welsh heritage, and feature the Welsh dragon on both the boxes and bands.
The Draig Cayuquero has recently been shipped to Delaware Cigars and Charlotte-based retailer Outland Cigars. The latter will be showcasing it while hosting the fourth annual Lite Up Charlotte event.
We did a pre-release assessment of the Draig Cayuquero back in July. At a glance here are the details of the Draig Cayuquero.
Blend Profile

In addition to the Brazilian Arapirica blend is described as including "spicy Esteli ligero" and "sweet Jalapa".
Wrapper: Brazilian Arapirica
Binder: Nicaraguan
Filler: Nicaraguan

Vitolas Available

The Draig Cayuquero will be launched in four vitolas:

Corona: 5 x 42
Robusto: 5 x 50
Toro: 6 x 52
Torpedo