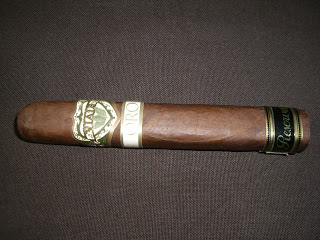 Viaje Oro Reserva VOR No. 5 (2012 edition),
the cigar is returning with a 2013 batch
Viaje Cigars is getting ready to release a 2013 batch of its Viaje Oro Reserva VOR No. 5. This cigar is most famous for putting Viaje on the map as it earned the #2 Cigar of the Year in Cigar Aficionado back in 2010.  Information on this appeared on both the Facebook page of the company and of company President Andre Farkas.  A "9/13" indicated an approximate timeframe.
Viaje originally started out with two core lines, Oro and Platino.  Last year both the Oro and Platino lines became small batch consistent with all other Viaje releases.   Both blends are Nicaraguan puros with a Nicaraguan Corojo 99 wrapper.  The blends are similar but the Oro is considered an "amp'd up" blend. Both the Oro and Platino lines have a special "Reserva" blend.  The Reserva blend is similar to the core Oro and Platino, but it contains older leaf and some additional ligero. The Reserva is also made in a box-press format.  The Viaje Oro Reserva VOR No. 5 is a 5 1/2 x 52.
Last year, Viaje made a banding change for the 2012 version of the VOR No 5.  This involved putting three bands on the cigar.  The "Reserva" band which had previously been a secondary band was moved to the footer and replaced by a secondary band that says "ORO".  The photo on Farkas' page indicated the banding for 2013 would be the same as 2012.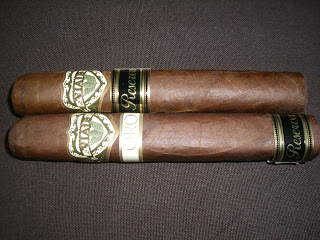 Viaje Oro Reserva VOR No. 5
(2011 edition top, 2012 edition bottom)
We noted last week that a 2013 batch of Viaje 50/50 Red and Black were scheduled to arrive at retailers.  It is expected the VOR No. 5 2013 will be shipping with those cigars.
We assessed the Viaje Oro Reserva VOR No. 5 2012 Edition back in January of 2013.