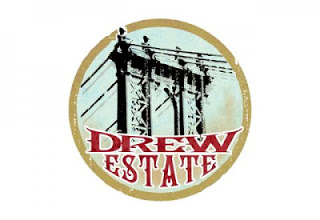 Ever since the Undercrown was released in Drew Estate's unique Flying Pig format to the Netherlands, the big question is when would this be available in the United States. Cigar International has announced they have received 50 boxes of this much sought after cigar. The cigar will be put on-sale at the retailer's three stores in Pennsylvania beginning 9/7.
The Flying Pig is a 3 15/16 x 60 perfecto-sized cigar that typically has been made available in limited batches. It was introduced over four years ago with a blend based on the Liga Privada No. 9 blend (appropriately called the Liga Privada No. 9 Flying Pig). In 2010, the Flying Pig format was released based on the T52 blend (appropriately called the Liga Privada T52 Flying Pig). In 2012, Drew Estate's Undercrown blend was made a limited regional release to the Netherlands, but had not been made in the United States.Cigar International says they have received 50 boxes of Undercrown Flying Pigs. The cigars are packaged in boxes of 12.
Our good friends at RobbyRasReviews did a review of the Undercrown Flying Pig.
The Undercrown blend was released in 2011 and has its roots to the famed Liga Privada line. Here is how we described it:
The origins of the blend go back to rollers in the Drew Estate factory making Liga Privada. In any factory, it is common for rollers to smoke the cigar they are making. With the case of Liga Privada because there was high demand with limited tobacco, this was not possible. Therefore, the rollers came up with a variation of the Liga Privada blend. This basically involved using alternate primings from the same tobaccos that were acquired and used in the Liga Privada blend. An example of this was mentioned by (Drew Estate president Steve) Saka on the BOTL forum indicating that the binder is from the T52 Stalk Cut Habano). The result was then tweaked by Saka and his team and Undercrown was born.
The morning of September 7th, there were reports that some customers were outside the stores with lawn chairs awaiting the opportunity to buy this cigar.
Update 9/9/13: Unconfirmed reports have said that Cigar International has sold out of the supply allocated. No further word on further allocations.
At a glance, here is a look at the Undercrown line:
Blend Profile
Wrapper: San Andreas Otapan Negro Ultimo Corte
Binder: T52 Connecticut River Valley Stalk Cut & Cured Habano
Filler: Brazilian Mata Fina and Nicaraguan Cuban Seed
Vitolas Available
Flying Pig: 3 15/16 x 60
Corona ¡Viva!: 5 5/8 x 46
Corona Doble: 7 x 54
Belicoso: 6 x 52
Gran Toro: 6 x 52
Gordito: 6 x 60
Robusto: 5 x 54