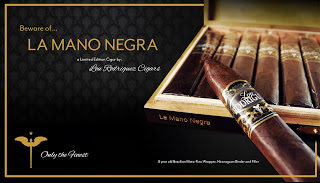 At the 2013 IPCPR Trade Show, Lou Rodriguez was displaying a new cigar called "La Mano Negra". Many of the details of this project were kept under wraps up until now. Cigar Coop has exclusively learned the details of this project as well as its availability.
The La Mano Negra will be a limited edition project. It marks Lou Rodriguez's second limited edition. The first was the Lou Rodriguez MF (Mata Fina). This became a cigar became a much sought after cigar by many cigar enthusiasts.

In terms of the details around the La Mano Negra, there are ties to the Lou Rodriguez MF. As the company explained to us:
"The process for this cigar started back in 2005. Lou bought a Pilones of Brazilian tobacco. Very rare and expensive tobacco. At the time that Lou purchased this Pilones he was not involved in the cigar industry, he was using tobacco to make cigars for friends and family. As time went on and Lou launched his brand in 2010 he decided to take some tobacco from the Pilones and make the 2010 "Mata-Fina" cigar which was a huge success. Only 200 boxes were made. In July of 2013 Lou decided to go back to our factory and take some more tobacco from the same Pilones that had been aging since 2005. Which has become "La Mano-Negra" English translation "The Black Hand" This cigar was limited to just 100 boxes, and was only made available to our top 13 shops. The cigar is constructed from an 8yr old Brazilian wrapper and Nicaraguans binder and filler. This cigar comes in boxes of 10 with a certificate of authenticity…"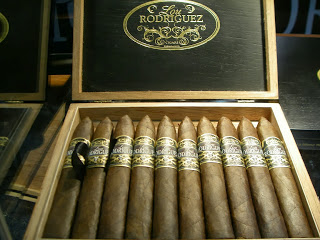 La Mano Negra – Cigar Coop IPCPR Photo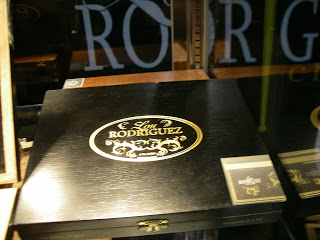 La Mano Negra Box – Cigar Coop IPCPR Photo
The following are the thirteen retailers carrying La Mano Negra:
Blacksburg
Pipe & Tobacco (Blacksburg, VA)
Carmack's Cigar and Tobacco (Noblesville, IN)
Cigar
realm (Ashland, VA)
Crescent City Cigar (New Orleans, LA)
Good Karma Cigar (Amarillo, TX)
Havana Mix Cigar Emporium (Memphis TN)
Havana Phil's (Greensboro, NC)
Leaf Lover's (North East, PA)
The Perfect Smoke (Salisbury, NC)
Speakeasy (Fayetteville, NC)
Tobacconist of Cary (Cary, NC)
Tobacco Leaf (Birmingham, AL)
Winston's Humidor (Midlothian, VA)
At a glance, here is a look at the La Mano Negra:
Blend Profile
Wrapper: Brazilian Mata Fina
Binder: Nicaraguan
Filler: Nicaragua
Vitolas Available
The La Mano Negra is available in one size – a 6 x 52 box-press torpedo.