"This cigar has gone to a whole new level and has now gone to the top of the game as far as Smoke Inn and Tatuaje releases go."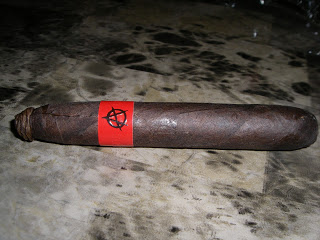 #3 – Tatuaje Apocalypse
Coming in at #3 on the 2013 Cigar of the Year countdown is the Tatuaje Apocalypse. This was a limited edition, retail exclusive cigar released for Smoke Inn in Florida as a part of their MicroBlend Series.
The Tatuaje Apocalypse gives Tatuaje their first entry on this year's countdown. It also marks the fourth consecutive year that Tatuaje has made the countdown. This is also the second time in three years, and third cigar overall from Smoke Inn's MicroBlend Series to make the countdown. The Tatuaje Apocalypse is also the second retail exclusive cigar to qualify for this year's countdown. Finally, the Year of the Maduro theme continues as this becomes the eleventh maduro and fifth Connecticut Broadleaf wrapper to make the countdown.

The MicroBlend Series is retail exclusive series where Smoke Inn teams with some of the biggest names in the cigar industry to produce a one time limited run exclusive to its shop. The Apocalypse marks the second cigar done by Tatuaje for this series. The other cigar was the Tatuaje Anarchy – was the first installment of the series and ironically finished as our # 3 Cigar in 2011.
The Apocalypse had perhaps the most interesting journey to a podium spot for the 2013 Cigar of the Year countdown. We first had an opportunity a pre-release last November and found it positive. It finished as our #4 Pre-Release Cigar for 2012 After the cigar was launched in December, 2012 (thus qualifying for our 2013 countdown), we noticed the flavor profile had started to develop and this cigar was even getting better and much smoother. By June, this cigar wow'd us – scoring a 95 and clearly showing this cigar lived up to aging potential.
The Apocalypse delivers notes of pepper, coffee, espresso, and nut. There is a unique nice sweetness that is a cross between sugar cane. The flavors remain on the medium to full-bodied side for most of the cigar experience, but progresses to full-bodied toward the end. The strength follows a similar pattern – medium to full to start and full strength for the last third.
Click here for our pre-release assessment of the Tatuaje Apocalypse. Click here for when we provided an assessment rating and score.

Blend Profile

Wrapper: Connecticut Broadleaf
Binder: Nicaraguan
Filler: Nicaraguan

Vitolas Available

The Apocalypse comes in a single vitola which I categorize as a "petit salomon". The official measurements are 5 1/4 x 48-52.
Score: 95 (6/3/13)
Assessment Rating: 4.5 – Fight Chuck Norris for Them

For more information on our vision and criteria for the 2013 Cigar of the Year countdown, see our December 2013 Editor's Corner.