"The TAA has received its share of many excellent releases by top manufacturers. Not only does this cigar rank right at the top of this list, but it could be one of the best cigars to be released in the industry this year."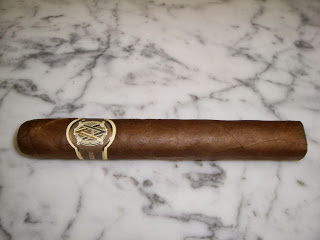 #5 Avo Movement TAA Limited Release
Coming in at #5 on the 2013 Cigar of the Year countdown is the Avo Movment TAA Limited Release. This is not only the first cigar that the Avo brand has done for the Tobacconists Association of America (TAA), but it also marks the brand's first box-press vitola.
The Avo Movement gives the Avo Cigar brand two entries on the 2013 Cigar of the Year Countdown. While Avo has appeared on countdowns (as well as the top five) three of the past four years, this is the first time Avo has placed two cigars on a single year's countdown. This also makes the Davidoff umbrella the second "umbrella brand" to have three cigars on this year's countdown (only second to House of Emilio). Finally, this marks the first time a TAA cigar has ever placed on our countdown.

The TAA is a small group of retailers (at press time the TAA web-site lists a total of 71 members). For the past several years many manufacturers have made available cigars that are exclusive to TAA member retail shops. As per their web-site, the TAA is defined as:

The Tobacconists' Association of America, Ltd. is a trade organization established in 1968 by visionary retail tobacconists. By providing education, communication, research, advocacy, and member discount programs, The TAA works with our members and the industry they support to offer the tools and relationship building opportunities needed to maximize professionalism and success."


The Avo Movement was another late entry on to the 2013 countdown as it was released toward the end of the 2013 Cigar Coop cigar year. This cigar is an absolute flavor bomb. It delivers notes of black pepper, caramel, natural tobacco, citrus, and hay. The flavors are medium to full-bodied and go to full-bodied during the last third. This cigar had one of the best finishes on the pallet of any cigar this year. Like most Avo Cigars, this is not going to overpower you with nicotine – as it delivers a medium strength smoke.
Click here for our assessment of the Avo Movement TAA Limited Release.

Blend Profile
Wrapper: Ecuadorian
Binder: Dominican
Filler: Dominican

Vitolas Available

The Avo Movement is a box-pressed vitola made in one size – a 6 x 52 toro.
Score: 95 (11/20/13)
Assessment Rating: 4.5 – Fight Chuck Norris for Them

For more information on our vision and criteria for the 2013 Cigar of the Year countdown, see our December 2013 Editor's Corner.