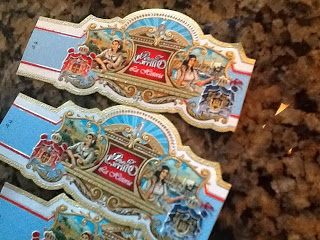 Perez Carrillo (Photo Credit E.P. Carrillo Facebook page)
It appears that the Perez Carrillo project by E.P. Carrillo is getting closer to reality. The company posted a picture on their Facebook page of some banding of the Perez Carrillo cigar. The photo caption said "COMING in MAY 2014!!!! "New Release"Perez-Carrillo cigar. Gorgeous band and awesome cigar! More details to follow. Release – prior to IPCPR."
The company has said that this will be the first of something called the "Generations Series".
The banding featured some of the most intricate banding on a cigar from E.P. Carrillo to date.
It was almost a year ago when word came of the Perez Carrillo project, however it was not something that was released in 2013. Other than the packaging, details of this cigar have not come out as of yet.
The Perez Carrillo joins the E.P. Carrillo INCH Short Run 2014 as projects queued up by E.P. Carrillo for 2014.
Update 1/11/14: Updated with information on the Generations Series.