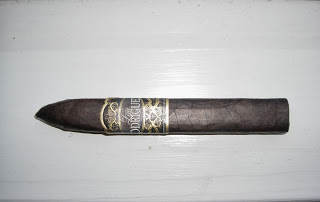 Lou Rodriguez La Mano Negra
The Lou Rodriguez La Mano Negra is a limited edition cigar that was released by Lou Rodriguez Cigars in 2013. La Mano Negra marks the second limited edition cigar by the company. A couple of years ago, the company quietly released its first limited edition cigar, the Lou Rodriguez MF. The MF stands for Mata Fina – the type of wrapper of the Lou Rodriguez MF. That particular cigar built up a cult following and quietly became a very sought after cigar by many boutique cigar enthusiasts. For La Mano Negra, Rodriguez goes back to the Mata Fina wrapper again – and delivers a Mata Fina wrapped cigar like no other I have ever had. La Mano Negra takes things to another level for Lou Rodriguez. This is a very special cigar and one worthy of being a very sought after cigar.

The Mata Fina wrapper establishes some ties between the Lou Rodriguez MF and Lou Rodriguez La Mano Negra. A few weeks ago, we broke exclusive news on this cigar. When we reported the information on La Mano Negra, this is what we learned how the project came about to be:
"The process for this cigar started back in 2005. Lou bought a Pilones of Brazilian tobacco. Very rare and expensive tobacco. At the time that Lou purchased this Pilones he was not involved in the cigar industry, he was using tobacco to make cigars for friends and family. As time went on and Lou launched his brand in 2010 he decided to take some tobacco from the Pilones and make the 2010 'Mata-Fina' cigar which was a huge success. Only 200 boxes were made. In July of 2013 Lou decided to go back to our factory and take some more tobacco from the same Pilones that had been aging since 2005. Which has become 'La Mano-Negra' English translation 'The Black Hand'. This cigar was limited to just 100 boxes, and was only made available to our top 13 shops. The cigar is constructed from an 8 year old Brazilian wrapper and Nicaraguans binder and filler. This cigar comes in boxes of 10 with a certificate of authenticity…"
It is common for a follow-up to a limited release to have increased production from the original. In the case of the La Mano Negra, this bucks an industry trend in that less cigars were produced this time around.
Without further ado, let's break down the Lou Rodriguez La Mano Negra and see what this cigar brings to the table:
Blend Profile
As mentioned, the cigar is constructed from an 8 year old Brazilian wrapper and Nicaraguan binder and filler.
Wrapper: Brazilian Mata Fina
Binder: Nicaraguan
Filler: Nicaragua
Vitolas Available
La Mano Negra is available in one size – a 6 x 52 box-press torpedo. La Mano Negra is the same size as the Lou Rodriguez MF. Given there were a 100 boxes of ten, a total of only 1,000 cigars were produced. These cigars have been distributed among 13 authorized retailers.
Appearance
The wrapper of La Mano Negra was definitely one of the darkest colored Mata Finas I had seen. It has a rich roasted espresso color. The wrapper had a slight amount of oil on the surface. There were some visible veins, but the wrapper's dark color did a good job at hiding the wrapper seams. Overall, the box-press was firm with no soft spots.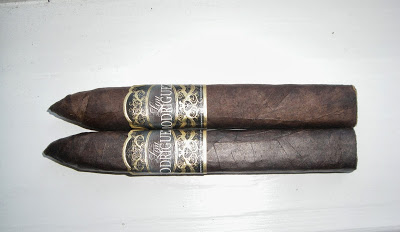 Lou Rodriguez MF (Top),
Lou Rodriguez La Mano Negra (Bottom)
The cigar features the standard Lou Rodriguez band that was found on the MF and several core lines. This band consists of a black, white, and gold color scheme. On the center of the band is the Lou Rodriguez name in white font – consisting of a cursive "Lou" and below it; the printed name "Rodriguez" is in a larger font. Below the name is a caduceus medical logo – signifying Rodriguez's medical roots. The band also has gold trim and gold adornments. Going across the bottom in almost a ticker tape fashion is the text "LOU RODRIGUEZ CIGARS" in small black font.
Preparation for the Cigar Experience
Before I lit up my La Mano Negra cigar, I went with a straight cut to remove the torpedo tip. While I normally go with straight cuts, in the case of a torpedo – this was pretty much a default choice. When I started the pre-light draw, I detected flavors notes of espresso and spice. In terms of the espresso flavor, I wondered if the dark wrapper color was influencing me via power of suggestion – however, I do feel confident with my assessment of the dry draw. Overall I was pleased with the pre-light draw experience. At this point I was ready to light up my La Mano Negra and see what the smoking phase would deliver.
Flavor Profile
The start to La Mano Negra provided me a mix of red pepper, espresso, and earth flavors. In the background there was an underlying sweetness that had a touch of black cherry to it. I found that all of the flavors all complemented each other very nicely. Meanwhile, the retro-hale provided a sharp red pepper to it.
In the second third, the espresso flavors took on almost an "espresso syrup" quality to it. In other words the espresso notes seemed to weigh slightly heavier on the tongue – and had some sweetness (both positives). This flavor remained in the forefront with the pepper notes. In the background, the black cherry notes still contributed a subtle sweetness. The earth notes were also in the background.
As La Mano Negra moved into the second half, the flavor profile described above continued. The one difference I noticed was that there also were also some dark chocolate notes in the background – complementing the espresso nicely. In the last third, some of the espresso notes took on a less syrupy taste and moved back to the way they were in the first third. The cigar remained flavorful right until the end. The cigar did not get overly spicy or harsh. The resulting nub was slight soft, but cool in temperature.
Burn and Draw
When I smoked the Lou Rodriguez MF, I was very impressed with the way that cigar scored in terms of burn and draw for a torpedo. When it comes to La Mano Negra, this cigar continues to score very well in these attributes. The burn line was able to remain relatively straight from start to finish – requiring minimal touch-ups. The resulting ash was firm and was not prone to flaking. The color of the ash was white with some gray and dark streaks on it. The burn rate and burn temperature were ideal.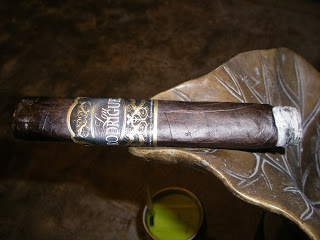 Burn of the Lou Rodriguez La Mano Negra
The draw to the Lou Rodriguez La Mano Negra was excellent – not too loose and not too tight. I recently said when I smoke a a torpedo and it doesn't feel like a torpedo, it's an excellent draw in my book. La Mano Negra definitely fell into this category.
Strength and Body
One thing that surprised me was the boldness I got from this blend from both a strength and body perspective. From the strength end, La Mano Negra started out medium to full. By the second third, the strength moved into the full range. The depth of the flavors followed a similar pattern. The cigar started out medium to full-bodied and became full-bodied in the second third.
Not only did I find this a bolder cigar from a strength and body perspective than the Lou Rodriguez MF, I found this to be one of the boldest Mata Fina wrapped cigars I ever smoked. I do think its possible some of this boldness with settle over time, but I don't think this will take anything away from this cigar.
Final Thoughts
Lou Rodriguez Cigars have consistently done very well on Cigar Coop, but as I mentioned at the start, La Mano Negra takes this to another level. There is one special cigar and one of the best Mata Fina wrapped cigars I have ever smoked. This cigar delivers in terms of flavor, construction, appearance, and balance. This is definitely a cigar I recommend picking up. Because this was a bolder cigar that I'd probably steer a more seasoned cigar enthusiast for. As for myself, this is not only box-worthy, but I'd fight Chuck Norris for the box.
Summary
Burn: Excellent
Draw: Excellent
Complexity: Medium
Strength: Medium to Full (1st Third), Full (Remainder)
Body: Medium to Full (1st Third), Full (Remainder)
Finish: Excellent
Assessment: 4.5 – Fight Chuck Norris for Them
Score: 95
Source: The cigars for this assessment were gifted to me by a friend.