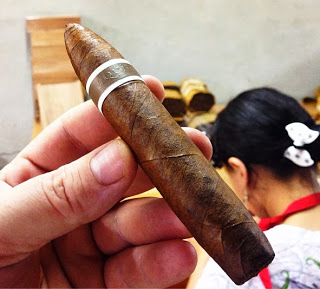 Photo Credit: Skip Martin Instagram
Back in October, RoMa Craft co-founder Skip Martin was a guest on our Stogie Geeks podcast and told us of plans for a new holiday sampler that would include the new size in the CroMagnon Aquitaine line, the Mode 5. Today Martin announced the Aquitaine Mode 5 will be available in the "Nica Sueno Holiday Sampler (El Catador de Los Perfectos)". This sampler will be made available on December 20th and be sold initially by Tobacco Locker in Port Charlotte, Florida.
As Martin told us on Stogie Geeks, the Nica Sueno Holiday Sampler consists of two short perfectos from each of the RoMa Craft Tobac core lines. Each perfecto will measure 5 x 50. This sample commemorates the first vitola to exist in the four core lines from RoMa Craft Tobac. The Nica Sueno Holiday Sampler is named for the factory that Martin co-owns that produces RoMa Craft Tobac cigars. The price point for the eight cigar sampler will be $52.00.

Intemperance EC XVIII Faith
Intemperance BA XXI Envy
CroMagnon Mode 5
Aquitaine Mode 5
At this time the Aquitaine Mode 5 will only be available in the sampler at this time with plans for a full production release in February.
In an email communication from Martin, he explained a little background on how this came together:
This size was first released in the core of the Intemperance brand and quickly became the best selling vitola in the EC XVIII, and the second-best selling in the BA XXI line. We produced an event-only version, the Mode 5, that was added to the core line of the CoMagnon brand earlier this year. The CroMagnon Mode 5 quickly became our single best-selling cigar. The demand at the trade show was overwhelming. We shipped 100% of the inventory we believed would last through the end of the year, in July, and had double that in backorders within a week of it hitting the shelves. In response, we ordered more molds and shifted 30% of our factory's capacity to making the Mode 5 and we are still trying to catch up. To keep the core lines in balance, we began making the Aquitaine Mode 5. Not wanting to make the same mistake twice, we are building up the inventory before releasing the 24 Count boxes.


However, we wanted to do something special to end what has been a very busy year at the factory so we created this limited availability sampler to commemorate the first vitola to coexist in all four wrappers in both of our core brands.
In terms of availability, Martin said that the majority will be made available to Tobacco Locker's walk-in customers, but was told from owner Bill Davies that some will be made available on-line.