"In my opinion this is one of the more unique smokes I've had in 2013 – and it makes for one of the best releases under the Ortega Premium Cigars banner to date."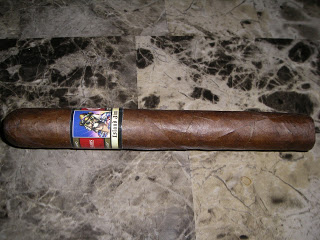 #25 – Ortega Wild Bunch 2013 Island Jim
Coming in at #25 on the 2013 Cigar of the Year countdown is the Ortega Wild Bunch 2013 Island Jim. This was the third installment (the March 2013 release) for Ortega Premium Cigars Wild Bunch 2013 series.

The Island Jim marks gives Ortega Premium Cigars its first entry on one of our Cigar of the Year countdowns. It also marks the second Ecuadorian Habano wrapper cigar to appear on this year's countdown.

The Ortega Wild Bunch 2013 series is a unique limited production cigar concept that was introduced by Ortega Premium Cigars. The concept behind the Ortega Wild Bunch is to dedicate a cigar to various cigar enthusiasts whom company president Eddie Ortega has personally met during his time in the cigar industry. During 2013, each month a different cigar – in a different size and blend will be released as a tribute to these various people. As mentioned the Island Jim represented the March 2013 release. It was made in a single vitola measuring 6 1/2 x 52 called "WaHoo"
The flavor profile of Island Jim provided a mix of citrus, pepper, natural tobacco, caramel, and nut. These flavors were medium to full-bodied. The cigar starts out medium strength and progresses to medium to full in the second half.
Click here for our assessment of the Ortega Wild Bunch 2013 Island Jim.
Blend Profile
Wrapper: Ecuador Habano Rosado
Binder: Nicaraguan
Filler: Nicaraguan
Vitolas Available

As mentioned above, each monthly release of the Wild Bunch is a unique blend in a different vitola. There is one vitola per blend. The official name for the vitola of the Island Jim is called "WaHoo" . The cigar itself is a toro measuring 6 1/2 x 52.
Score: 93 (3/10/13)
Assessment Rating: 4.0 – Box Worthy


For more information on our vision and criteria for the 2013 Cigar of the Year countdown, see our December 2013 Editor's Corner.