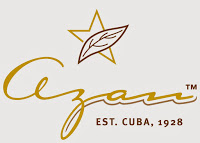 Roberto Duran Cigars, who launched their Azan Cigars line at the 2013 IPCPR Trade Show will be launching a national ad campaign. While the campaign highlights the current Premium White and Burgundy lines, it will also highlight the company's soon to be released third line – the Special Edition Natural Maduro.

The company was founded by Roberto Pelayo Duran. Azan Cigars was the re-launch of an old Cuban line. By bringing back the Azan name, Duran has aimed to have the Azan to offer the same quality, construction, and detail which he exceeded from those he supervised while he was in Cuba. After working as a production supervisor in Cuban, Duran went on to assemble and manage all Cuban cigar brands for The Pacific Cigar Company, Ltd. Recently, he was a consultant to Dunhill Cigars working on their global brand strategy.
The roots behind the original Azan line are most interesting. The company was actually founded by a group of Chinese immigrants back in 1928. Kwan Ben Sen (known as Domingo Azan) with his brothers started making handmade cigars in Manicaragua, Cuba (located in the province of Villa Clara). In terms of the relaunch of the Azan brand, Duran has Domingo Azan's great granddaughter Maria Isabel Alvarez Azan as a part of the team.
The company has a boutique factory in Esteli, Nicaragua. Much like the original line, the factory employs a classic approach to cigar making with a focus on quality.
The Azan Cigar ad will focus on Duran's "no nonsense approach to cigar making" that he leaned in Cuba. The messaging is "No leather, no chocolate, no frills" keeping true to the company's classic cigar making approach.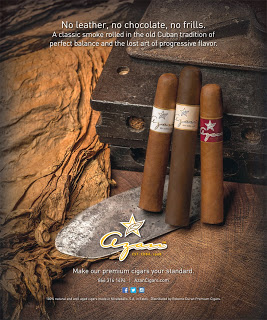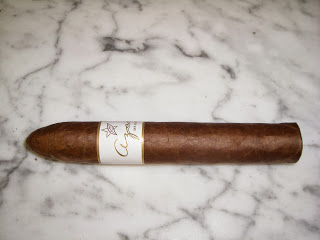 Azan Premium White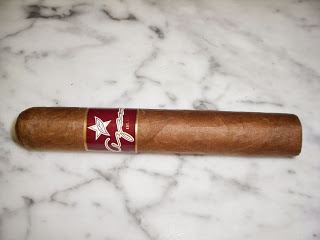 Azan Burgundy
As for the Special Edition Maduro Natural, details are still forthcoming. According to the
company's web-site
the "
Maduro Naturals are our special editions made out of a rare wrapper. Each harvest brings Azan a small amount naturally intense dark brown wrappers of the highest quality, which we turn into a limited edition of 100% natural Maduro Cigars. The filler blend is slightly modified to boost the strength of this particular cigar to bring out a strong flavour, yet a sweetness and aroma which is comparable to the White Premium Line
." Two frontmarks are listed: a Robusto Extra (5 1/2 x 52) and Campana: 5 1/2 x 52 (Belicoso).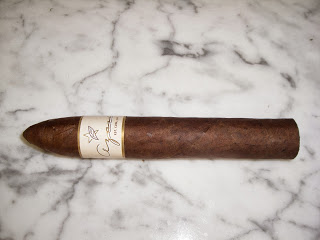 Azan Maduro Natural