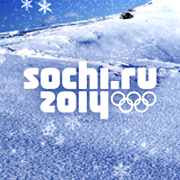 Hammer + Sickle has recently posted on their web-site that they are planning a new cigar called "Sochi Limited Edition 2014". This past weekend, Eric Hanson, Executive Chairman of Klin Groupe (parent company of Hammer + Sickle) was a guest on the 2/1/14 edition of Cigar Authority Radio program and provided some details of the release.
The Sochi will be a limited edition cigar with only 100 boxes of 10 produced. According to Hanson, the cigar was blended by Henke Kelner of Davidoff. While more details are forthcoming, Hanson said the blend incorporates nine different tobaccos and is in a 6 3/4 x 48 format. The cigars are unbanded and each box is numbered. It was inferred on the show the 100 boxes allocated were heading to Cigar Authority Host Davis Garofolo's Two Guys Smoke Shop retail shops. This is confirmed on the Two Guys web-site.
Sochi refers to the town in Russia that is hosting the 2014 Winter Olympic games that are opening this month. The cigar is meant to be a commemorative cigar for this event.