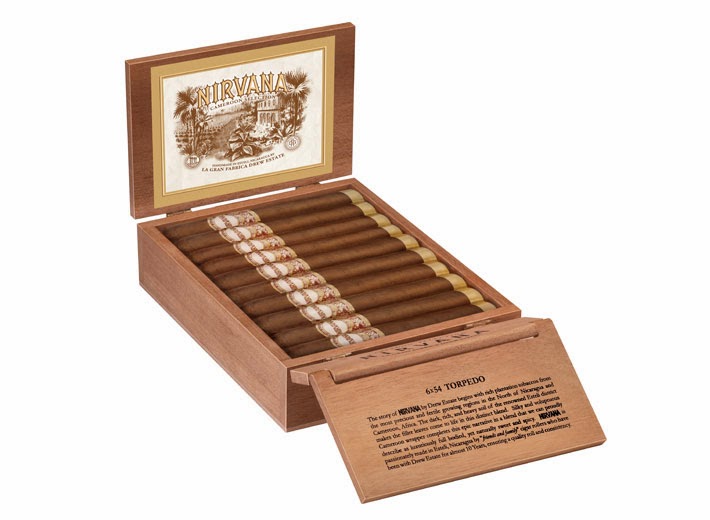 Royal Gold Cigars Nirvana Cameroon Selection
(Photo provided by Drew Estate Tobacco Company)
Royal Gold Cigars and Drew Estate Tobacco Company have jointly announced the release of the Nirvana Cameroon Selection. This is the fourth release by Royal Gold Cigars. It also is the first collaboration Royal Gold Cigars has done with Drew Estate. Information on this release was done through a joint press release by both companies.
Word of the Nirvana started prior to the 2013 IPCPR Trade Show. It was at the 2013 IPCPR Trade Show where Royal Gold Cigars first showcased the cigar. The cigar is the first non-infused cigar being made by Drew Estate for another company (The Rocky Patel Java series is made by Drew Estate)

In the press release, Drew Estate co-founder Marvin Samel stated that, "the beauty behind the Nirvana blend is the combination of Cameroon wrapper and Nicaraguan filler leaves. Cameroon leaf is from Africa and is known for its sweetness and a natural sweet spice taste. Blending the strength, body, and richness of the Nicaraguan tobacco with the Cameroon allows a nuanced & layered depth to really come through. This is not an old fashioned mild Cammy. Quite the contrary."
Co-founder and company namesake Jonathan Drew also was quoted in the press release by saying "Nirvana is extremely important to Drew Estate Tobacco Company for a variety of reasons. First, Nirvana will join our product lineup as one of only two brands that we produce for strategic partners. Second, our relationship with Alex Goldman is akin to that of a brother.
"When he hurts, we hurt. When he succeeds, our hearts are filled with pride.The brand Nirvana is a long-term relationship that begins with the Cammy Selection. Testing and experimenting with different blends, different algorithms of leaf and concept – is the beauty of creation. We have a lifetime to learn together. Nirvana will be that common space and bond between DE and Royal Gold. We will deliver something beautiful that proves itself over time. We are in no rush."
Drew Estate President Michael Cellucci also weighed in on the partnership, "We have worked with Alex (Goldman) for years and have always been close friends. This new venture allowed us to collaborate on a project we are both proud of and both committed to."
Royal Gold Cigars president Alex Goldman stated that, "When I started Royal Gold at the beginning of 2013, my vision was to work with the best blenders and factories in the world to create our brands. Of course, Drew Estate was right at the top of the list. The talent and creativity of the Drew Estate team, combined with all the resources that Royal Gold, its parent company, and my own history in the cigar business, allowed us to create a truly special blend. The limited nature of the Cameroon wrapper will not allow us to produce all the cigars that we feel the market will demand, but you can be sure that neither Drew Estate nor Royal Gold will trade quality for quantity – we will keep the production limited to ensure the best possible product is delivered to our consumers. Both the Royal Gold and Drew Estate names and logos appear on the packaging, and as such we will always stand behind the quality of this product. This is just the first brand of what I hope will be a long term collaboration between Royal Gold Cigars and Drew Estate"
At a glance, let's take a closer look at the Royal Gold Cigars Nirvana Cameroon Selection.
Blend Profile
According to the press release, the Cameroon wrapper is described as a "light brown, Rosado" grown in the Eastern province of Cameroon Africa. The origin of the Cameroon seed is from Sumatra Indonesia. According to the press release, this varietal has grown in Cameroon for over 60 years.
The wrapper is grown by small farmers tho, when it's time to cure the tobacco, clear an area of land and construct a rustic curing barn. This completely natural process translates into a leaf almost devoid of disease and also produces some of the best tasting Cameroon leaf in the world.
The final blend to the Nirvana Cameroon Selection is slightly different than what was being published at the 2013 IPCPR Trade Show. The filler is being reported as having some Honduran tobacco in it.
Wrapper: Cameroon
Binder: San Andres Negro
Filler: Nicaraguan (Esteli, Jalapa), Honduran (Jamastran)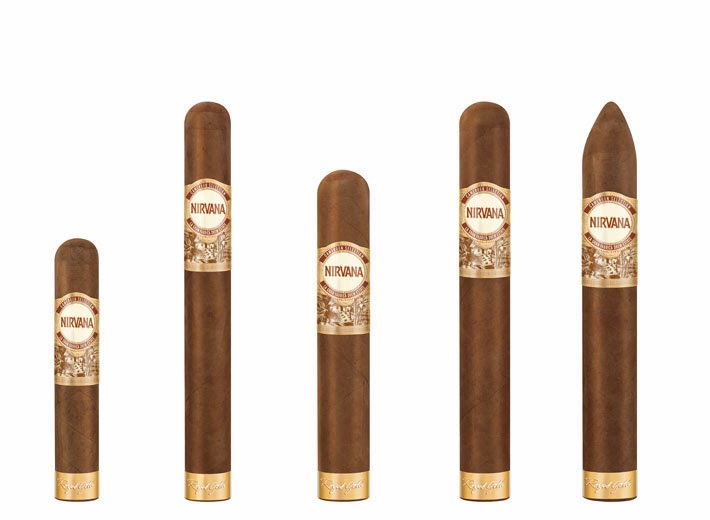 Royal Gold Cigars Nirvana Cameroon Selection
(Photo provided by Drew Estate Tobacco Company)
Vitolas Available
The cigar is being launched in five sizes:
Corona Gorda: 6 x 46
Robusto: 5 x 52
Silencio: 4 x 44
Toro: 6 x 52
Torpedo: 6 x 54 T
On a recent episode of Cigar Chat, Goldman mentioned that there first production run will have 75,000 cigars and will be boxed in a wooden display box with a flip lid on the top and bottom. Goldman described them as "limited edition boxes". The next release will go to a paper covered wooden box. The reason why this was done was to avoid release delays that often arise due to waiting of boxes – which is a big problem in the industry.