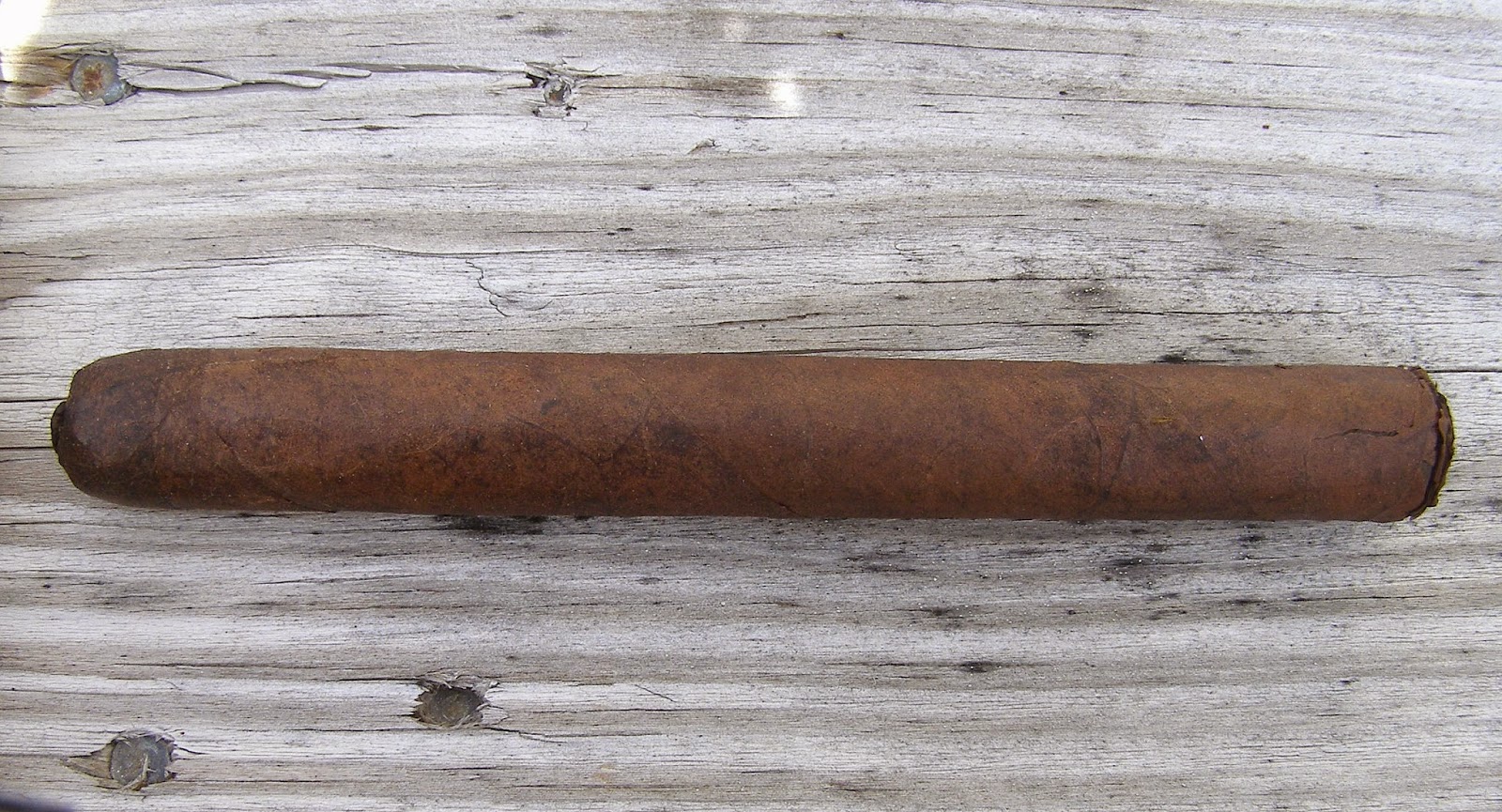 2006 Vintage Stout Corona by Bellatto / Caldwell / Sears
The 2006 Vintage Stout Corona is a soon to be released company by Bellatto / Caldwell / Sears Cigars. The company is a collaboration between Tony Bellatto, Robert Caldwell and Jaclyn Sears. The company was previously called Impromptu Cigars. Bellatto is one of principals of La Barba Cigars while Caldwell and Sears are a part of Caldwell Cigar Company. The Bellatto / Caldwell / Sears collaboration is a different venture. When the collaboration was announced, it was described as a company that would produce "a continuing series of extremely limited production blends of some of the most rare, exotic and hard to acquire tobacco varietals that the boutique cigar industry has yet seen". Earlier this year, the collaboration released three small batch cigars, and the 2006 Vintage Stout Corona will now follow as yet another release. As the name indicates, this is one stout corona-sized cigar, but it is one excellent cigar. This is definitely a cigar worth checking out.

Bellato is a Wine and Spirits Wine Educated Trust certified Sommelier. This background plays a role with this particular blend. In describing the 2006 Vintage Stout Corona by Bellatto / Caldwell / Sears, Bellatto says:
"After tasting all of these amazing flavor notes combined, they are almost all flavors found in every stout beer. When I came across these gems with Caldwell in the D.R., I knew they were going to be a hit, specifically because of my love of craft beer, wine, and spirits. The cigars complement all three very well especially a nice Imperial Stout."
Let's take a closer look at the 2006 Vintage Stout Corona and see what this cigar brings to the table. Since we smoked pre-release samples, we will default to our pre-review format and share our thoughts and perspectives. We will provide an assessment rating and score once the cigar is released.
Blend Profile
In addition to a Connecticut Broadleaf wrapper, the filler is 100% ligero from three countries.
Wrapper: Connecticut Broadleaf
Binder: Not disclosed
Filler: 100% Ligero: Nicaraguan, Dominican. Honduran
Vitolas Available
The 2006 Vintage Stout Corona is a Corona-sized offering. A total of 5,000 cigars have been produced.
Appearance
The Connecticut Broadleaf wrapper has a great look on this cigar. It has a rich coffee bean color and depending on the light, you can see some colorado red in it. Upon closer examination, some darker marbling can be seen no the surface. There was a light amount of oil on the surface. There are some visible wrapper seams and visible veins. There is a coiled pig-tail on the cap and the foot is covered.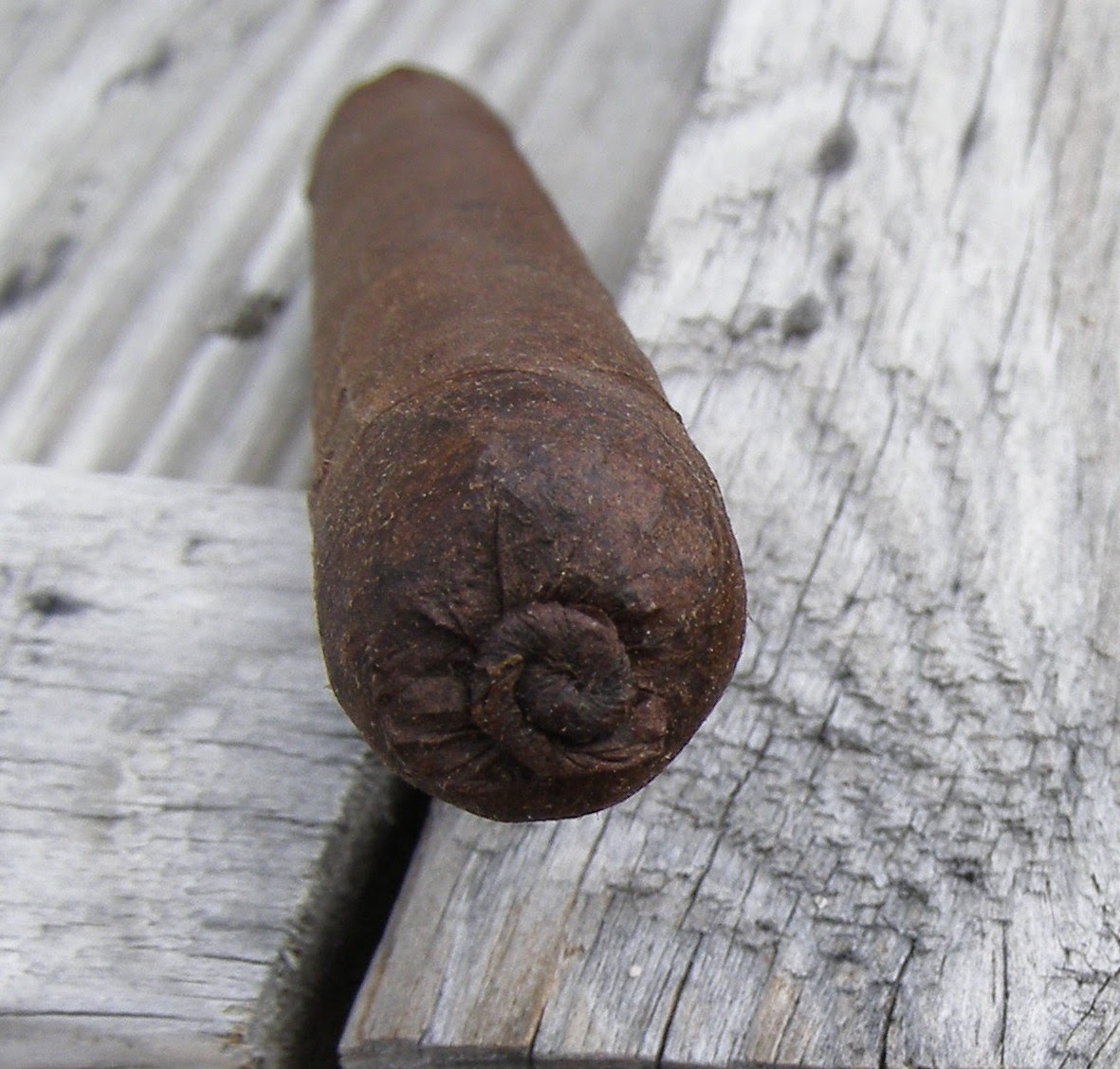 Cap of the of the 2006 Vintage Stout Corona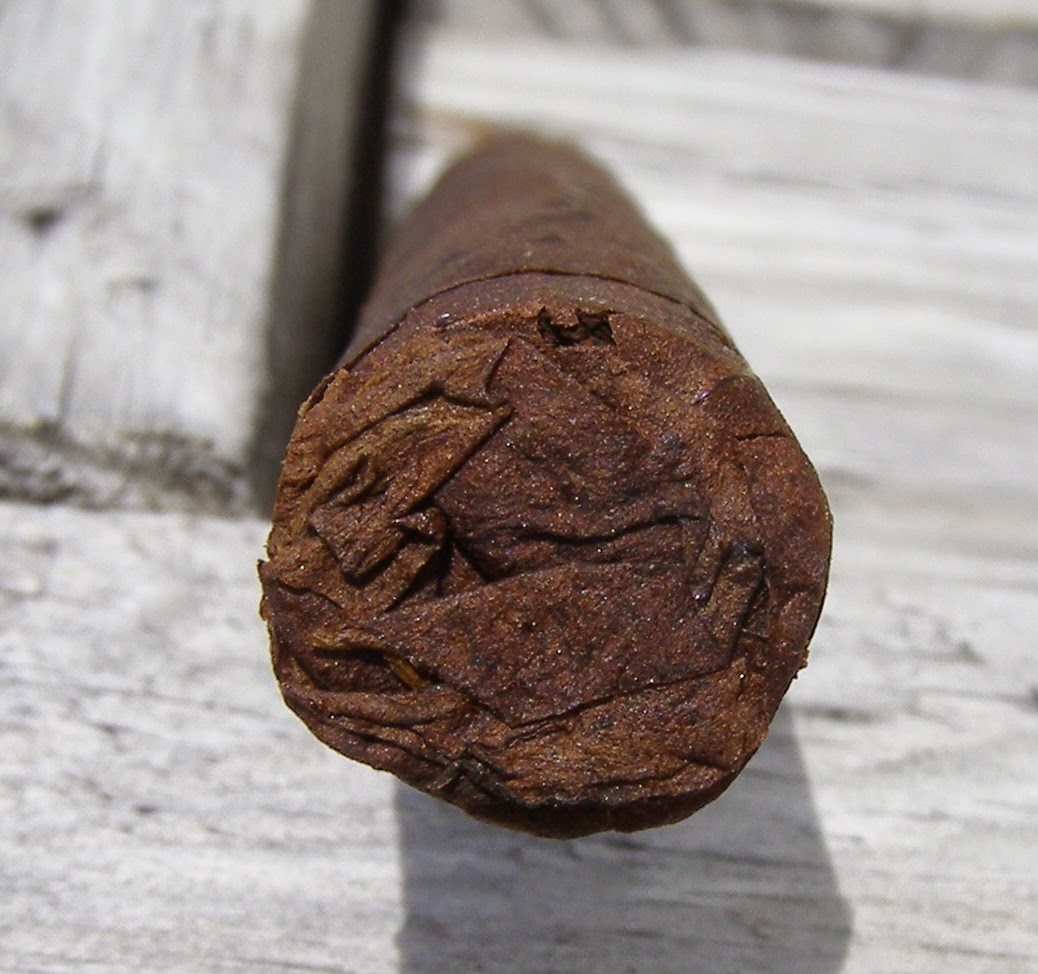 Covered foot of the 2006 Vintage Stout Corona
There is a nice cocoa and pepper aroma from the cigar. The samples we received were unbanded.
Preparation for the Cigar Experience
As I normally I do, I opted to go with a straight cut instead of pulling off the pig-tail. Once the cap was removed, I proceeded with the pre-light draw. Despite the covered foot, I was able to still get some good flavors on the pre-light draw. The cold draw delivered notes of earth, natural tobacco, coffee, and some mild pepper. Overall, I considered the pre-light draw of the 2006 Vintage Stout Corona to be an excellent cigar. At this point I was ready to light up this cigar and see what the smoking phase would have in store.
Flavor Profile
The start to the 2006 Vintage Stout Corona picked up where the pre-light draw left off. The cigar started out with notes of coffee and pepper with some natural tobacco flavors in the background. Those natural tobacco flavors provided a nice sweetness to counter some of the spice in the forefront. The retro-hale produced a nice black pepper note as well.
Throughout the first half, the pepper seemed more prominent on the draw and retro-hale while the coffee notes seemed to be more prominent on the after-draw / finish. As the cigar moved through the first half, the pepper spice changed up. It became almost like a chili pepper flavor.
By the second half of the 2006 Vintage Stout Corona, the chili pepper flavor was not only the primary spice, but also a primary flavor. There still were some nice earth, coffee, and natural tobacco notes to counter the spice. The spice was prominent and had some bite – but I never felt it assaulted the pallet. The resulting nub was firm to the touch and cool in temperature.
Burn and Draw
In terms of burn, the 2006 Vintage Stout Corona performed excellent. The burn line remained straight from start to finish – requiring minimal touch-ups along the way. The resulting ash not overly tight, but still firm where I didn't get any unexpected ash drops. There was some minor flaking, but nothing that was a major problem. The ash was a little dark to start, then developed a nice silvery color to it. The burn rate was ideal. I did find this to be a slow burning cigar, but this didn't seem to have any adverse effects on the overall experience.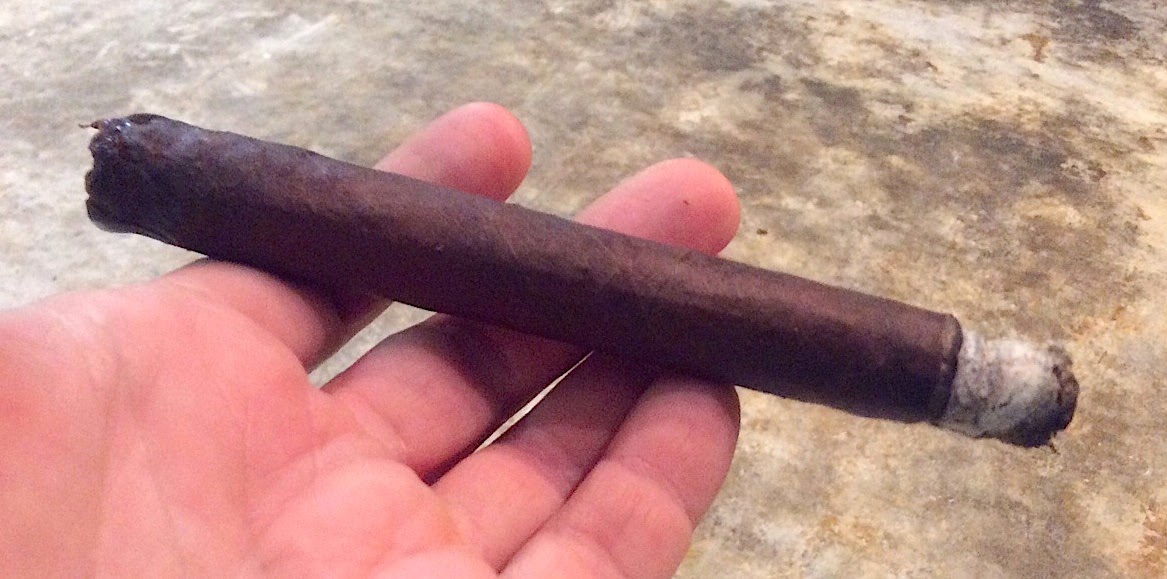 Burn of the 2006 Vintage Stout Corona by Bellatto / Caldwell / Sears
The draw had some resistance to it – and that could have contributed to the slow burn. One of the samples I had did deliver a tight draw, but the other one (which was the cigar baselined for this assessment) had just enough resistance where I considered it to be ideal.
Strength and Body
I mentioned stout at the start of this assessment because this is exactly what this cigar is. The 2006 Vintage Stout Corona is going to deliver a lot of strength. This is a full strength cigar to start and gets stronger by the second half. Meanwhile the flavors provided some nice weight on the pallet. I assessed the 2006 Vintage Stout Corona to be a full-bodied smoke. Both the strength and body counter each other nicely delivering a nice balance between those attributes.
Final Thoughts
I really like the small batch model put in place by Bellatto / Caldwell / Sears. If the 2006 Vintage Stout Corona is an indication for the quality of these smokes from a flavor and construction standpoint, this is a company that is going to do very well. I wouldn't consider myself enough of a pairings guy when it comes to beer, wine, and spirits to make a judgment. I do know I liked what this cigar delivered – and that was good enough for me. Given this is a strong cigar, I would recommend this more for an experienced cigar enthusiast looking for a full strength, full-bodied cigar. As for myself, this cigar has all of the makings of a winner. It's definitely a cigar I look forward to smoking come release time.
Summary
Burn: Excellent
Draw: Excellent
Complexity: Medium
Strength: Full
Body: Full
Finish: Good
Refernces
News: n/a
Price: n/a
Source: Sample Provided by Manufacturer (*)
Stogie Geeks Podcast: n/a
Stogie Feed: n/a

* The cigar for this assessment was given to Cigar Coop by Bellatto / Caldwell / Sears. Cigar Coop is appreciative for the sample, but this does not influence the review.