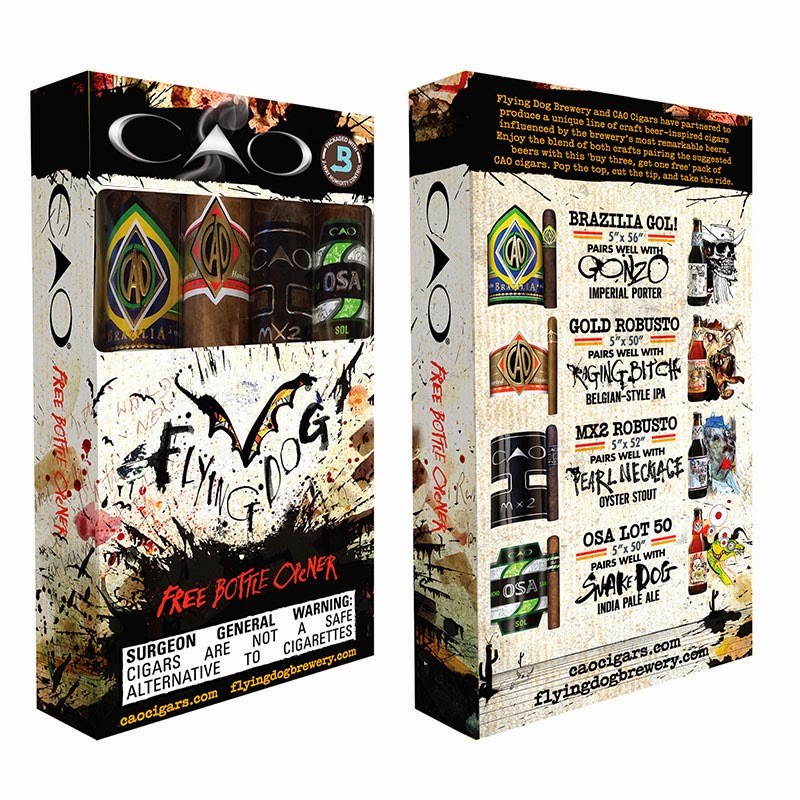 Even before CAO Cigars was acquired by General Cigar Company, they had been famous for their sampler packs. Now CAO is teaming up with Flying Dog Brewery to pair four robusto-sized cigars with four beers from the Brewery. The CAO "Art of Craft" will be launched on July 1st and will be exclusively sold at 36 Total Wine stores in the Mid Atlantic.
"Cigars are most often paired with brown spirits. Since we're not fans of being conventional, we're shaking things up by bringing craft beer into the mix," CAO cigar blender Rick Rodriguez said. "Flying Dog mirrors our devotion to delivering new, unique flavors, so we're looking forward to working with them to bring this new trend to life."

"Just as craft beer is defined by a unique blend of malt, hops, and yeast, a cigar's wrapper, binder and filler determines its flavor profile and aroma," Flying Dog CEO Jim Caruso said. "The similarities between these two artisanal products quickly became apparent as we were working through this project."
The four cigars included in the pack along with suggested pairings are:
OSA Sol Lot 50 (5 x 50) and Snake Dog IPA: The zesty spice of OSA Sol meets its match with the citrus and resinous hop aromas and flavors of Snake Dog.
CAO Brazilia Gol (5 x 56) and Gonzo Imperial Porter: Both big and bold, the bitter coffee and chocolate flavors in CAO Brazilia are mimicked by the same robust notes in Gonzo.
CAO Gold Robusto (5 x 50) and Raging Bitch Belgian-Style IPA: The wildly complex hop bitterness and fruity sweet Belgian yeast notes in Raging Bitch are soothed by CAO Gold's caramel creaminess.
CAO Mx2 Robusto (5 x 52) and Pearl Necklace Oyster Stout: Dark and dry is the name of this pairing's game with Mx2's rich notes of earth and Pearl Necklace's dry, roast, and slightly bitter character.
Rodriguez and Caruso will team up for a launch event on June 25th at the Flying Dog Brewery in Frederick, Maryland.