As exclusively first broken on Stogie Geeks, the J. Grotto Anniversary will be the fourth line of cigars released by Ocean State Cigars. This will join the J. Grotto, J. Grotto Reserve, and J. Grotto Silk lines. The J. Grotto Anniversary is significant because it is the first Connecticut Broadleaf cigar. The cigars are expected to be showcased at the 2014 IPCPR Trade Show.
As also exclusively broken on Stogie Geeks, the J. Grotto Anniversary will be a collaboration done with Phil Zanghi of Debonaire Cigars. Below is the text of the press release.

Thirty-five years in cigar sales tells me the new J. Grotto Anniversary is what smokers are looking for." Ocean State Cigars' founder, Paul Joyal, continues: "Time and time again, smokers have said they smoke full-bodied cigars … and then buy medium-bodied ones.
"Many smokers mistake body for flavor … not realizing a powerful smoke can be short on flavor, and vice versa with a mild cigar. Anniversary is flavorful to the point it can be described as succulent. It is a departure from all our three previous J. Grotto cigars, which are medium-full to full-bodied."
Anniversary is 100% long-filler tobacco and hand-made, using the traditional Cuban accordion-folded filler method of bunching. Folding the filler leaves eliminates the problem some entubado-bunched cigars exhibit when bunching tobaccos from several sources. The wrapper is a naturally maduro-fermented, true Connecticut broadleaf, while the binder is a Dominican-grown Habano. Joyal is guarded about the "special blend" the factory has provided, other than saying it is Dominican and "other Central American." He notes, "Anniversary is made by cigar wizard Phil Zanghi's Santiago, Dominican Republic, factory. Phil has certainly lived up to his reputation for service and product … he nailed the blend and delivered on time in this, our first collaboration. Regarding the blend, I will say that Zanghi has close ties with the Reyes family, suppliers of 70% of all Dominican tobacco used on the island, Anniversary likely has some proprietary Reyes Dominican leaf, too."
For smooth smoking, all tobaccos are aged at least 3 years; the finished cigars another 3-4 months. All shapes share double capped head construction for head integrity during smoking.
Four shapes are presented, with designations that indicate their dimensions: L458 (4″ x 58), followed by T(oro)650, P(erfecto) 555 and E660. Joyal describes the flavor profile as "classic Connecticut broadleaf sweetness, plus some subtleties in cocoa, coffee and nuts."
The box and band artwork reflect 2014 as a pivotal year in the family's history: Paul's parents celebrate their 65th wedding anniversary, while Paul and his wife mark their 30th. Studying the gold coins on Anniversary's artwork reveals several gold coins with the initials of immediate family members. The box is made of unvarnished, natural Spanish cedar, and holds 18 cellophane-tubed cigars. Manufacturer's suggested retail pricing runs from $7.99 to $9.99, and the cigars are available at tobacconists in August. Joyal describes what he thinks is Anniversary's most appealing feature … "superpremium quality and performance at consumer pricing." He also points out that these cigars are available only to brick-and-mortar tobacco shops … not to Internet and mail-order discounters.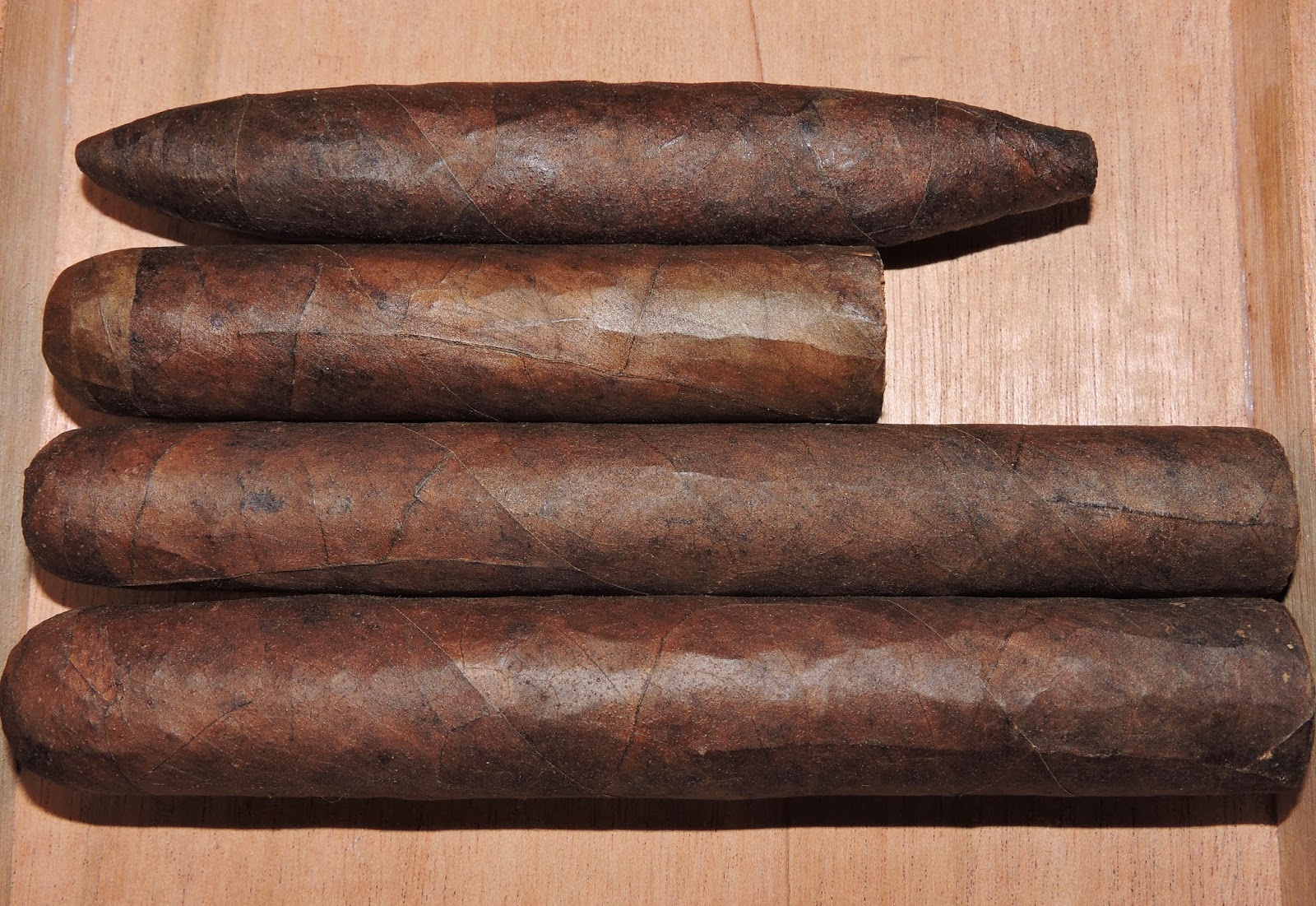 J. Grotto Anniversary by Ocean State Cigars (Pre-Release)
(Top to Bottom P555, L458, T650, E660)
Blend Profile
Wrapper: Connecticut Broadleaf
Binder: Dominican Habano
Filler: Dominican and Other Central American Tobaccos
Vitolas Available
L458: 4 x 58
T650: 6 x 50
P555: 5 x 55
E660: 6 x 60
Update 7/9/14: Added pre-release photo