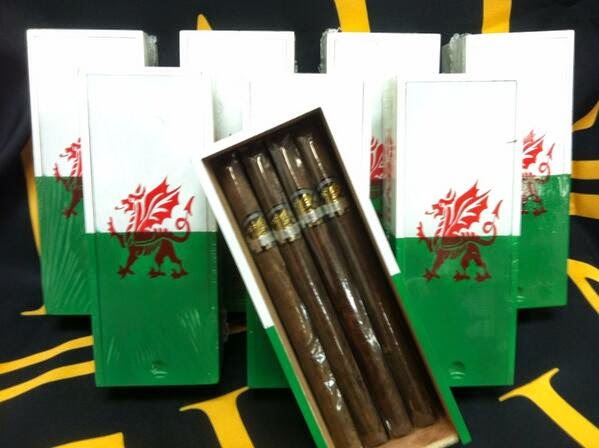 Emilio Cigars has announced they are shipping a lancero version of its Draig Cayuquero blend. The Cayuquero Lancero becomes the fifth frontmark to be made available in the blend. According to Emilio Cigars' brand developer Gary Griffith, the Cayuquero Lancero will be a one time limited release. We noted news from Keeping Your Man Card in our 3/29/14 Cigar Industry Report announcing this new size.
In a press release by the company, the Draig Cayuquero Lancero will begin shipping on June 25th to coincide with Griffith's 60th birthday.

The Draig Cayuquero Lancero will be shipped in boxes of 10. Production will be limited to 100 boxes.
The Cayuquero was introduced in 2013 as the second release in Emilio's Draig line. The Draig line pays homage to Griffith's Welsh heritage. The concept around the Draig line is to produce a small batch, limited production cigar – using a different factory and a different blend each year (although indications are there will not be a 2014 edition). The concept was done as a collaborative effort with Noel Rojas' factory.
When the Draig Cayuquero was announced, Griffith a published the following post on Facebook: "There is a small town in the far western part of Pinar del Rio, Cuba, called El Cayuco. Some of the locals are known as "Cayuqueros" which translates loosely as "trouble makers." One of these problem children is a dear friend, and in his honor I am announcing that this year's (2013) Draig Limitado will be a joint effort with Noel Rojas."


The Draig Cayuquero line finished as the Cigar Coop #18 Cigar of the Year in 2013.


At a glance, here is a look at the Draig Cayuquero line.
Blend Profile
Wrapper: Brazilian Arapirica
Binder: Nicaraguan
Filler: Nicaraguan
Vitolas Available

Lancero: 7 1/2 x 38
Corona: 5 1/2 x 52
Robusto: 5 x 50
Toro: 6 x 50
Torpedo: 6 x 50