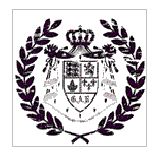 George Rico's Zulu Zulu STK project will be returning.  Gran Habano has announced the project will be returning for a 2014 run.  While the blend will be the same, the cigar will now be produced at the G.R. Tabacalaeras factory in Miami, Florida.  It will also feature new art work and a new charitable cause
The Zulu Zulu was introduced back in 2011.  It originally started as a cigar that was a part of Rico's personal collection.  Eventually Rico took the blend and released it to benefit Invisible Children.  For the project, Rico enlisted an artist known as "The Kid" to do the art work for the packaging.  The Zulu Zulu project was released in both a Connecticut Shade Wrapper blend (Blue Box) and Nicaraguan Habano wrapper blend (Red Box).  Both blends featured Nicaraguan binder and filer.  The cigars were released in three sizes for each blend are: Corona Gorda, Lancero, and Gran Toro.

While the blends will be the same, this time Colombia born artist Federico Frum better known as "Mas Paz" will be doing the art work.  The new charitable cause is to benefit a non-profit organization that will fund La Casa de la Madre y el Nino, an orphanage in Bogota, Colombia.
The company says more details will be coming in the near future in a press release.