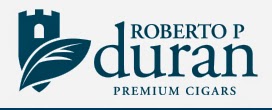 Roberto P. Duran cigars has announced they are launching three new cigar lines at the 2014 IPCPR Trade Show: the eponymous Roberto P. Duran Cigar, the NEYA, and the Baracoa line.
The Roberto P. Duran cigar will be a super premium brand. It features a Habana Criollo wrapper from the company's plantation in Ecuador and combines fillers from Nicaragua and Latin America.

NEYA will be premium offering and that will be packaged in cedar boxes. It will come in five sizes and is described as a medium to full-bodied cigar.
The Baracoa will be the bundle line. It will be available in nine sizes. They will be packaged in 20 counts with a self-standing carton.
Roberto P. Duran Cigars made their debut at the 2013 IPCPR Trade Show and launched their first line, Azan. Azan was an old Cuban line that was resurrected. It was launched in three blends, the Azan Premium White, the Azan Burgundy, and the Azan Maduro Natural. The company is named after its founder, Roberto Pelayo Duran.