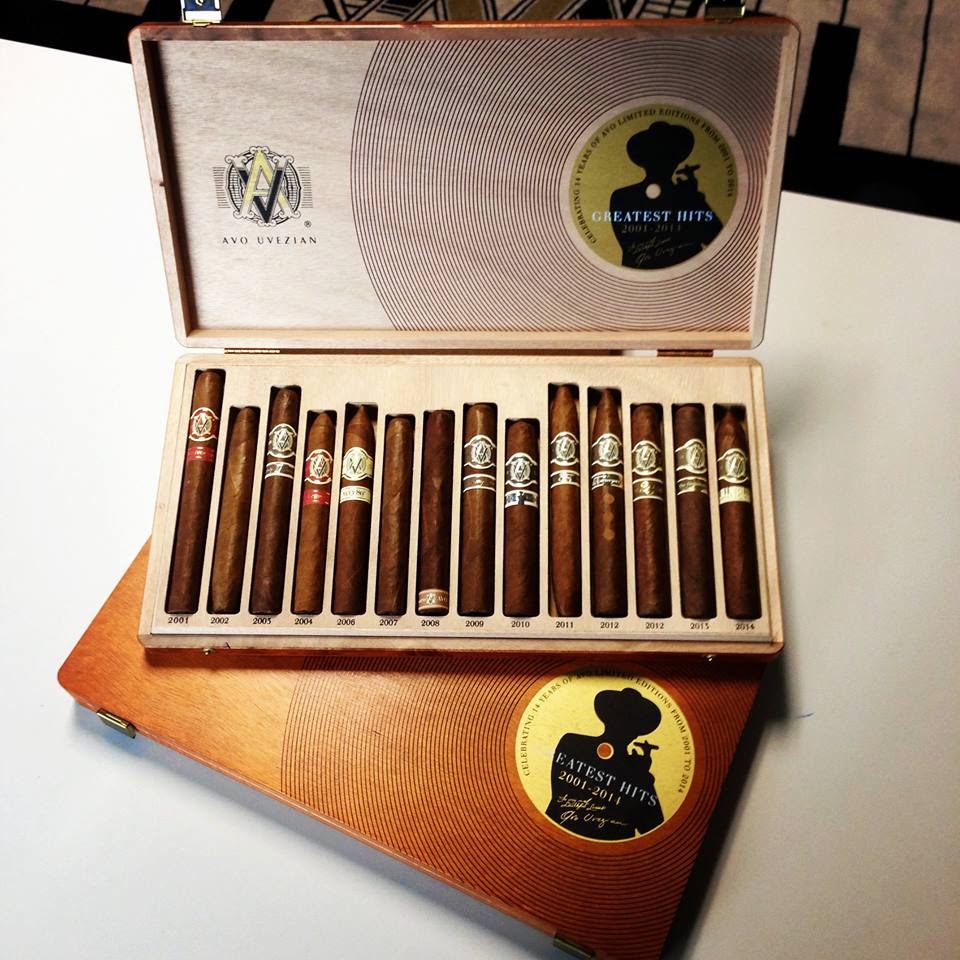 Avo's Greatest Hits (Photo Credit: Avo Cigars Facebook)
As noted on the 6/14/14 edition of the Cigar Industry Report, Avo Cigars will be releasing a sampler pack featuring cigars from its annual limited edition series. Today the company showed off the "Avo's Greatest Hits" sampler on their Facebook page. The sampler is expected to be front and center at the 2014 IPCPR Trade Show.
The sampler features 14 cigars from the annual limited edition series that was launched back in 2001 with the Avo 75th. The series has featured a single production run in a different blend and size each year and is meant to coincide with brand ambassador Avo Uvezian's birthday (March timeframe).
The name "Greatest Hits" also relates to Uvezian's ties to the music industry.

There are a few exceptions to what is included / not included:
The Avo LE05 is not included.
Only one of the two Avo Limited Edition 2002, "Avo 22s" is included.
The Avo 25th, which was released outside the normal annual March timeframe is included.
Here is a look at the Avo Limited Editions over the years:
2001: Avo 75
Wrapper: Ecuadorian Sun Grown
Binder: Dominican
Filler: Dominican
Double Corona: 7 x 50
2002: Avo 22
Wrapper: Ecuadorian Sun Grown
Binder: Dominican
Filler: Dominican
Figuardo: 5 7/8 x 50 (U.S. – included)
Figuardo: 5 7/8 x 43 (European)
2003: Avo 77
Wrapper: Ecuadorian
Binder: Dominican
Filler: Dominican
Toro: 6 1/2 x 50
2004: Avo Legacy
Wrapper: Ecuadorian Sun Grown
Binder: Dominican
Filler: Dominican
Belicoso: 5 3/4 x 48
2005: Avo LE 05 (5 3/8 x 52 – Not included in Sampler)
Wrapper: Ecuadorian
Binder: Dominican
Filler: Dominican
Robusto:: 5 3/8 x 52
2006: Avo 80
Wrapper: Ecuadorian Sun Grown
Binder: Dominican
Filler: Dominican
Belicoso: 6 x 52
2007: Avo LE 07
Wrapper: Ecuadorian Sun Grown
Binder: Dominican
Filler: Dominican
Corona Gorda: 5 5/8 x 48
2008: Avo Limited Edition 2008 Tesoro
Wrapper: Ecuadorian Sun-Grown
Binder: Dominican San Vincente
Filler; Dominican (Piloto, San Vincente, Olor)
Robusto: 5 3/4 x 50
2009: Avo Limited Edition 2009 Companero
Wrapper: Ecuadorian Sun-grown Cuban Seed
Binder: Dominican
Filler: Criollo Ligero, Piloto Cubano Ligero, San Vincente Ligero, Peruvian Seco
Toro: 6 x 54
2010: Avo Limited Edition 2010 (Avo LE 10)
Wrapper: Ecuadorian Sun-Grown
Binder: Mexican Sumatra Seed
Filler: Dominican – all Ligero
Super Robusto: 5 1/2 x 55
2011: Avo Limited Edition 2011 85th
Wrapper: Dominican
Binder: Pelo de Oro (Peru)
Filler: San Vicente Visus, San Vicente Ligero, Piloto Ligero, Piloto Seco
Diadema: 6 3/4 x 50
2012: Avo Limited Edition 2012 La Trompeta
Wrapper: Ecuadorian Special Sun Grown "Seleccion 702" (Ecuadorian Sumatra)
Binder: Dominican Piloto
Filler: Dominican Criollo Ligero, Piloto, Cubano Viso, San Vicente Ligero, Domincan Olor Ligero,Peruvian Seco
Torpedo: 6 1/2 x 54
2012: Avo 25th Anniversary Edition
Wrapper: Dominican Criollo Sun-Grown
Binder: Dominican Piloto
Filler: Dominican
Toro: 6 x 52
2013: Avo Limited Edition 2013 Dominant 13
Wrapper: Habano 2000 Ecuador
Binder: Yamasa (Dominican)
Filler: Dominican (Piloto, Habano-seed Viso, San Vincente Ligero, Corojo/Olor Ligero) Peruvian Viso
Toro: 6 x 52

2014: Avo Limited Edition 2014 Avo 88
Wrapper: Yamasa (Dominican)
Binder: Olor/Criollo( Dominican)
Filler: Piloto Viso, Piloto Ligero, San Vicente Ligero, Corojo/Olor, Crillo (All Dominican)
Belicoso: 6 x 52