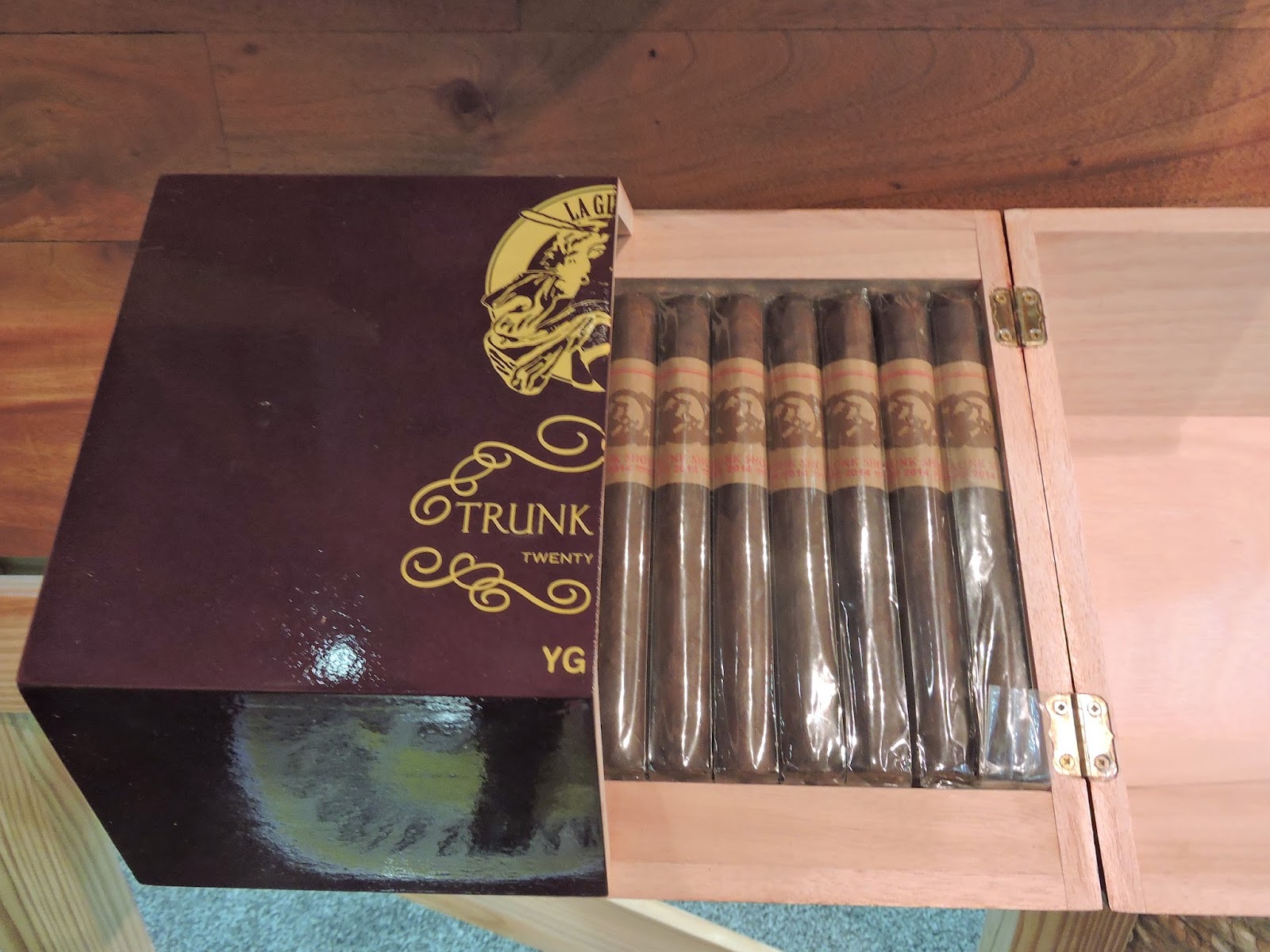 At the 2014 IPCPR Trade Show, General Cigar Company's La Gloria Cubana brand unveiled its third release of its limited edition La Gloria Cubana Trunk Show Series.  The La Gloria Cubana Trunk Show 2014 releases three new cigars, but keeps true to the Trunk Show's characteristics of including smokeable cigar bands, using rare tobaccos, and featuring innovative packaging.
The Trunk Show 2014 will feature the same names as the 2013 edition – named for the appropriate blender:  Michael Giannini's Liga MG-08, Yuri Guillen's Liga YG-23, and Jhonys Diaz's Liga JD-05.  Following a strategy used with the Trunk Show 2013, the MG-08 and YG-23 will be brick and mortar exclusives while the JD-05 will be an internet / catalog exclusive.  The Trunk Show 2014 edition will feature a new size – a 7 1/4 x 54.  Each of the three releases will be a one time "one and done" release of 500 boxes of 26.  The cigars are targeted for an October, 2014 release.

According to Michael Giannini, General Cigar's creative director, and the originator of the Trunk Show concept, "Jhonys Diaz, Yuri Guillen and I are constantly experimenting with rare tobaccos, developing blends that can only be made available in small batches. The Trunk Show gives us the opportunity to share these unique blends with true cigar connoisseurs who are drawn to exotic flavor and new taste experiences."
This is the third year of the Trunk Show Series – which was introduced back in 2012.
At a glance, here is a look at the three releases of the La Gloria Cubana Trunk Show 2014:
Liga MG-08
Blend details were kept high level. According to General Cigar, "Creative Director Michael Giannini sourced small batch tobaccos from five different countries for his blend which is dressed in a three-year-old Habano Ecuadoran wrapper.  The flavor of his Liga MG-08 speaks to his personal preference for bold flavor and exotic, one-of-a-kind taste. His Trunk Show release has a pigtail head and a stamped band."
Wrapper: Ecuadoran
Binder: Connecticut Habano
Filler: Honduran, Colombian, and Nicaraguan
Vitola: 7 1/4 x 54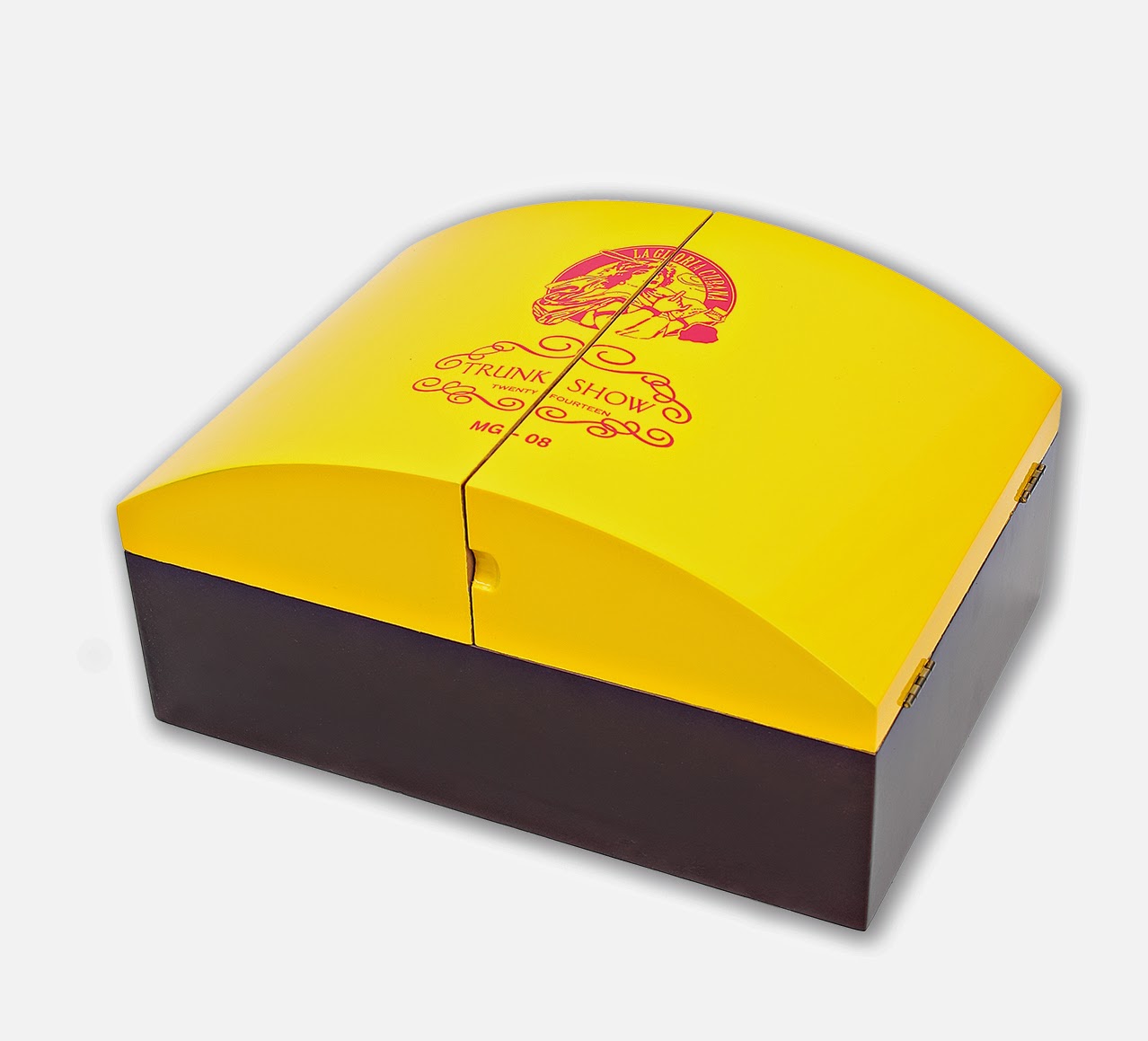 Liga YG-23
According to General Cigar, "Blender Yuri Guillen selected tobaccos from independent growers from four countries for his namesake cigar which is dressed in a Connecticut Habano Maduro leaf from the 2010 crop. His Liga YG-23 is a bold and earthy smoke reflecting his fondness for flavorful intensity. The cigar was developed with a round head and boasts a cutout band inspired by Lady La Gloria."
Wrapper: Connecticut
Binder: Dominican
Filler: Dominican, Brazilian and Nicaraguan
Vitola: 7 1/4 x 54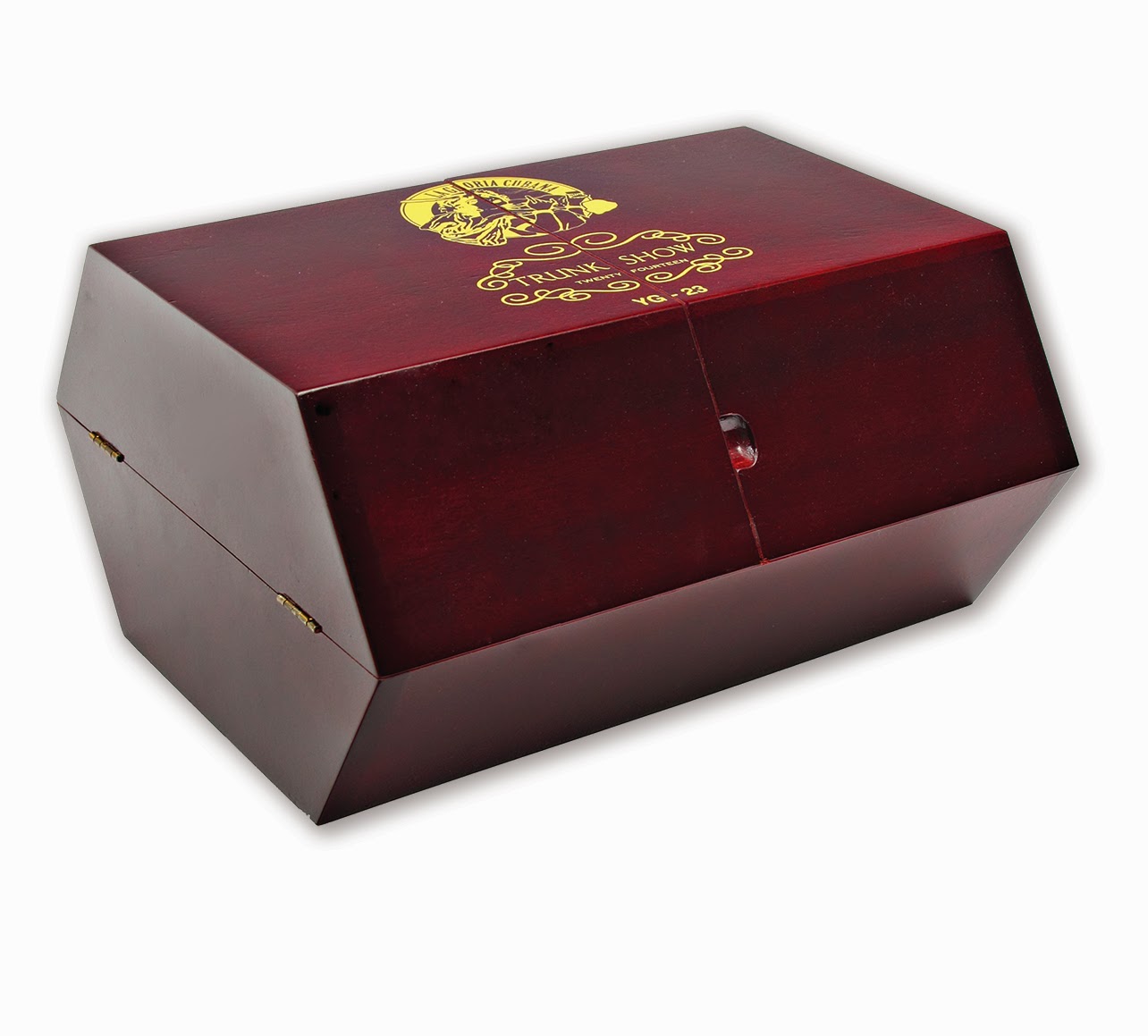 Liga JD-05
According to General Cigar, the JD-05 was "developed by Master Blender Jhonys Diaz solely for internet/catalog retailers, Liga JD-05 speaks to his love of picante smokes. With a dark, oiled Ecuadoran wrapper and Nicaraguan, Honduran blend, Liga JD-05 starts with medium-bodied flavor, and then progresses to a hearty, peppery smoke."
Each box of the Liga JD-05 has 13 cigars with stamped bands, and 13 with cutout bands.
Wrapper: Ecuadoran
Binder: Ecuadoran
Filler: Honduran, Nicaraguan
Vitola: 7 1/4 x 54