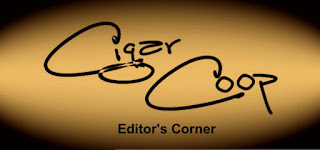 This past month we made history on Cigar Coop and Stogie Geeks.  We celebrated the three year anniversary of the Stogie Geeks Show and ran a show with 11 guests over a span of 8 hours. The purpose of this show was to drum up support for Cigar Rights of America. Our goal is a 100% Call to Action – either sign up or renew your membership.  These battles with legislature are costly and cannot be done without your support.
We were proud to make this cause as a part of our show – which set the record for the longest single cigar related broadcast ever – a span of 8 hours.

We now begin the "New Year" on Cigar Coop and that can only mean one thing – the 2014 Cigar of the Year Countdown.  We developed this concept back in 2009 and put it into action for 2010.  We celebrate 30 cigars over the course of a month.   We were proud to be one of the first to do this, and now celebrate our fifth year doing it.
2014 Cigar of the Year Countdown
There will be a few tweaks this year, but the most notable one is the addition of a sponsor.  It is important to know the sponsors we partner with for the countdown do not have products that are a part of the countdown, but still offer great products.
This list stands alone within the Cigar Coop and Stogie Geeks brands – and we do not endorse or support any composite or consensus lists without explicitly our brands stating so.  If our lists are used without that public endorsement, they are being done without our blessing and do not have our support.
The Vision
This list is different.  I use the title "Epic Encounters" to describe the theme of this list.  It is meant to describe the best cigars I've encountered during the 2014 Cigar Year.   This isn't about the best selling cigar.  This isn't about the best cigar for the price, and finally this isn't about the widest distributed cigar.  A lot of cigars are covered on Cigar Coop, thus it is my vision to use the month of December to reflect on those cigars, quantify them and put them into some sort of a ranking.
The Criteria
This year's criteria supersedes all criteria in previous years.  It is possible the criteria might change for the 2015 Cigar Year as well.
1. The 2013 Cigar Year: The cigars on this list are in the release range of Black Friday 2013 to Thanksgiving 2014 – or 11/29/13 – 11/27/14.  I try to be as accurate as possible here in terms of a release date, but this is not an exact science.
2. Cigars considered will be new blends only.  If a new vitola comes out or is re-released, it is not eligible.  Vitolas are all tweaked, so unless this is considered a different blend, a new line or a re-blend, I will not include a new vitola.  I will rank the new vitolas in a separate top ten.
3. Pre-Release cigars do not qualify for the list.
4 .Retail exclusive and regional release cigars are eligible, unless deemed "in store only".  It must allow the consumer access to the cigar via internet or phone sales.  Example: If the only way someone living in New York to obtain the cigar is to walk into a store in Texas to get a retail exclusive (or have someone else walk in the store), it is not eligible.
5 Event Only cigars are excluded – even if they are available for purchase at the event.
6. Cuban Cigars are excluded, since they are not readily available in the U.S.
7. Cigars to qualify for consideration for the Countdown must have a minimum numerical score of 92 and a Assessment Rating of "3.5 – Box Split".  Scores and Assessment Ratings are thrown out the window here.  Every cigar starts with a clean slate.  Consistency also plays a role here too.
8. I cannot personally smoke every cigar and every frontmark that was released.
9. Eligible cigars that can be considered for the countdown must be smoked during the Cigar Year. This does not necessary correspond to the published date – which could come after the year is over.
10. Cigars selected cover the whole line, not just a single vitola – therefore this is factored into the ranking.  I will select a recommended vitola for each cigar selected.
11. I do personally frown if a manufacturer asks to be on the list. Request for placement can lead to disqualification this year and in subsequent years.  This is strictly a merit system.

12. The results of the selections of the list will be locked at 11:59 PM Eastern Time on November 30th.  No adjustments are made are that time.
The Countdown Itself
Each day in the month of December we will count down a cigar.  We start with #30 on December 1st, and continue with one cigar a day.  On December 25th and December 30th, we will not have a countdown selection (although you will still have original content from Cigar Coop on those days).  On December 31st, the #1 and #2 Cigars will be crowned.