Assessment Updates will be posted on this web-site to: 1) Assess "pre-review" cigars that were not given a rating or score (typically pre-release cigars); 2) Provide numeric ratings to cigars previously assessed prior to the implementation of the numeric scoring system; 3) Provide a re-assessment and re-score of a previously assessed/score cigars. Today, we re-assess Quesada Oktoberfest Dunkel. This was a cigar we did a pre-release assessment back in September, 2013.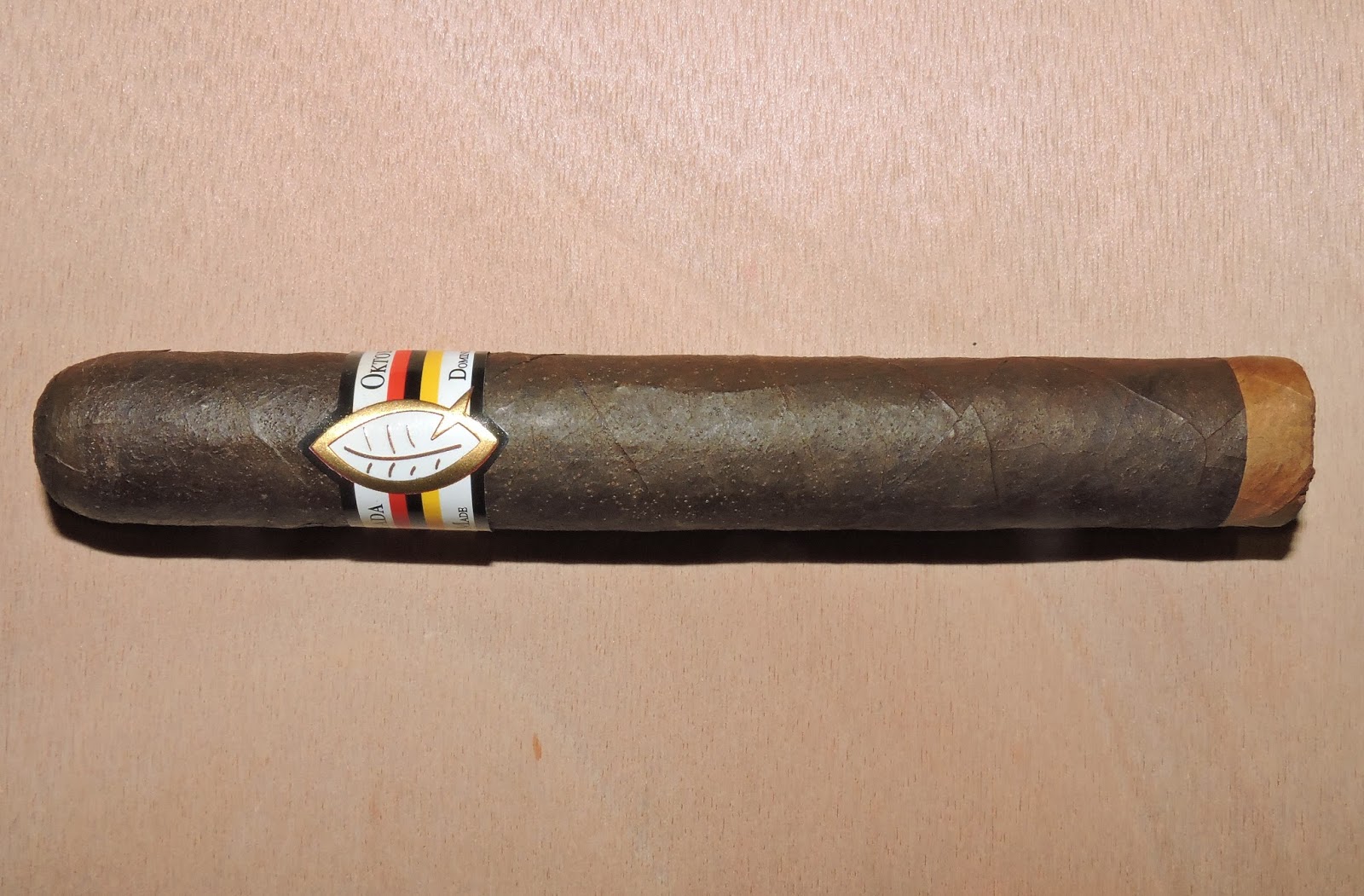 Quesada Oktoberfest Dunkel (Part of SmokeInn's MicroBlend Series)
Wrapper: Broadleaf Maduro, Ecuadorian Connecticut (Footer)
Binder: Dominican Republic
Filler: Dominican Cuban Seed Criollo, Olor Viso, Ligero
Country of Origin: Dominican Republic (Quesada Cigars Factory)
Toro: 6 x 54
Released in September 2013, the Quesada Oktoberfest Dunkel marks Smoke Inn's seventh installment of its retail exclusive, limited production MicroBlend series. The Dunkel is a different blend compared to the rest of the Oktoberfest line in that it has a different wrapper. With the Dunkel, the Dominican Cibao wrapper of the Oktoberfest is replaced by a Broadleaf maduro wrapper along with an Ecuadorian Connecticut Shade wrapper at the foot. Dunkel is the German word for a dark lager. The maduro wrapper represents the dark wrapper. The Connecticut Shade wrapper is meant to give the appearance of a foam head that is often seen on a Dunkel beverage.
Like the pre-release, the Dunkel starts with notes of cream at the beginning, and then undergoes the same smooth transition to creamy chocolate notes. There was some underlying sweetness to the creamy chocolate. I also got another note that seemed to be a cross between black coffee and chocolate stout. This coffee / chocolate stout flavor had more of a bittersweet component, but complemented the creamy chocolate nicely. With this particular cigar, there was a lot less in the way of citrus and natural maduro sweetness. There also still was a pepper note that was present. Unlike the pre-release, this time the pepper didn't take control at the end.
The big difference is I thought the Dunkel mellowed quite a bit over time. This is not the full strength, full-bodied cigar I had some 18 months ago. This started out as a medium strength, medium-bodied cigar. It progressed to medium to full-bodied by the second half while the strength followed becoming medium to full in the last third.
In a lot of ways, this cigar was much more in the way of a cigar designed to pair with a beer than the original. This is a cigar that I hope doesn't mellow much more otherwise it may lose too much. For now, it's worth a box split.
Summary
Burn: Excellent
Draw: Excellent
Complexity: Medium
Strength: Medium (1st 2/3), Medium to Full (Last 1/3)
Body: Medium (1st Half), Medium to Full (Second Half)
Finish: Excellent
Assessment: 3.5 – Box Split
Score: 90
References
Original Assessment (Pre-Release): Quesada Oktoberfest Dunkel
News: Oktoberfest Dunkel (Part of the Smoke Inn Microblend Series)
Price: $8.50
Source: Purchased
Stogie Geeks Podcast: Episode 67
Stogie Feed: Quesada Oktoberfest Dunkel (Part of the Smoke Inn MicroBlend Series)