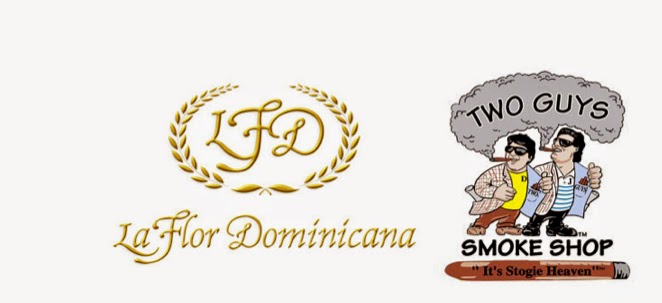 La Flor Dominicana will be making the latest iteration of Two Guys Smoke Shop's Firecracker. The New Hampshire-based retailer formally announced the details behind the Firecracker – the retailer's signature size 3 x 50 vitola with a closed foot. The cigars are expected to be available in early April.

According to the Two Guys Smoke Shop the story behind this project can be traced back to last year when the retailer conducted a consumer-based blind test challenge. La Flor Dominicana ended up being the winner. Following the results of the challenge, Two Guys Smoke Shop owner David Garofalo approached La Flor Dominicana owner Litto Gomez about doing the next iteration of the Firecracker, and Gomez quickly signed on.
Featuring an Ecuadorian Sumatra wrapper over Estate Grown Dominican binder and filler, everyone involved with the project is stating this cigar lives up to its name.
"With the unique nature and the size of this cigar it allowed us to utilize some more potent ligero creating a blend that is truly a firecracker of a cigar," said Jonathan Carney, Vice President of Sales for La Flor Dominicana.
According to Gomez, "When Dave asked us to make a cigar named The Firecracker, the mission was very clear. It is everything you'd expect it to be. Double Ligero with a kick."
"Strap yourself in, this is going to be powerful," said Garofalo who added, "I am excited to work with La Flor Dominicana on this project. It's going to be explosive."
News that La Flor Dominicana would be making the latest Firecracker first surfaced on the February 14th edition of the Cigar Authority Program where Carney was a featured guest.
This is not the first 3 x 50 Firecracker to be released by the retailer. There have been other iterations the retailer has carried, most notably a Firecracker version of the Don Pepin Original (Blue Label) made by My Father Cigars. While not branded "Firecracker", it has recently been announced that the Tatuaje M80, another 3 x 50 shop exclusive cigar once sold at Two Guys would be returning to the shop.
The retailer has set up a web-page where consumers can be notified when the La Flor Dominicana Firecracker arrives.
At a glance, here is a look at the La Flor Dominicana Firecracker:
Blend Profile
Wrapper: Ecuadorian Sumatra
Binder: Dominican
Filler: Dominican
Vitolas Available
As mentioned the Firecracker is a 3 x 50 cigar. The cigars will be packaged in 20 count boxes with a total production of 250 boxes. Each cigar will have an SRP of $5.99 per cigar or $99.99 for a box of 20.