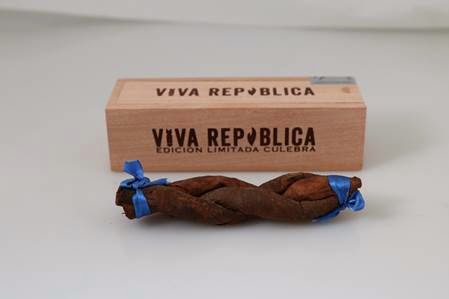 Viva Republica Edicion Limitada Culebra
(Photo Credit: Viva Republica)
Back at the 2014 IPCPR Trade Show in Las Vegas, we first reported on a series of planned limited edition projects by Viva Republica.  One of those projects is a cuelbra offering called the Viva Republica Edicion Limitada Culebra.  With this particular culebra, each component is made up of the Viva Republica Rapture, Rapture Maduro, and Guerrilla Warfare blends. The company is now getting ready to release this project. The official launch will be held during the DC Tweet Up on Saturday, March 14 at Tobaccology in Manassas, VA.
The Viva Republica Edicion Limitada Culebra will consist of three cigars measuring 5 3/4 x 39. Culebra is a style of cigars that was started in Cuba that involves typing three "twisted" vitolas together. It is believed this started because rollers in Cuba were limited to taking one cigar home a day and the Culebra was a way to skirt the rules. What is unique about the Viva Republica Edicion Limitada Culebra is that each of the three components will be a different blend – and in this case the blends come from existing Viva Republica core line blends.
"I've always been intrigued by and have enjoyed culebras and wanted to use creating one as an opportunity to feature three of our core lines," said Jason Holly, owner of Viva Republica.
Production will be limited to 1,000 culebras. Each culebra will be packaged in a coffin box.  The cigars will carry an SRP of $18.00.  The cigars will ship to authorized retailers in five pack units.  The five packs contain a card that includes blend and production information.
"Pricing was always a consideration. These are time-consuming to produce. But I wanted to keep value pricing so [more] people would try a culebra," said Holly. I think their typical cost could be a bit of a consumer barrier."
Last month, Viva Republica released another of the limited editions we reported on from IPCPR, the Viva Republica Jailbreak.
At a glance, here is a look a the Viva Republica Edicion Limitada Culebra:
Blend Profile and Vitolas Available
Each culebra consists of a 5 3/4 x 39 vitola of the following blends. The cigars are made at La Aurora in the Dominican Republic.
Wrapper: Ecuadorian Havana Vuelta Abajo
Binder: Dominican Republic
Filler: Brazilian, Dominican, Nicaraguan, Peruvian
Wrapper: San Andres Negra (Mexico)
Binder: Dominican Republic
Filler: Brazilian, Dominican, Nicaraguan, Peruvian
Wrapper: Ecuadorian Sumatra
Binder: Dominican Republic, Mexican (Double)
Filler: Brazilian, Dominican, Nicaraguan