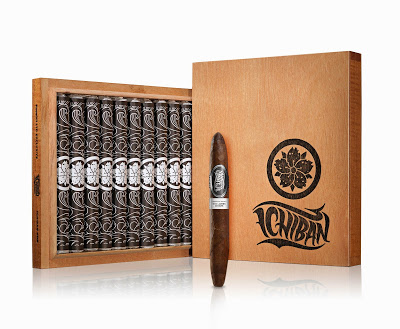 Doc James Cigars, a retailer based in New York State will be the third retailer to receive an exclusive size of the Room 101 Ichiban line. The Room 101 Inchiban Ranfla will introduce a 6 1/2 x 30 x 50 x 19 perfecto sized cigar into the line that is exclusive to Doc James. Plans are for the cigar to be availble starting on May 18th with three launch events hosted b Room 101 Brand Owner Matt Booth.

The Ichiban Series is a planned series of eight vitolas. Eight retailed were selected to carry one exclusive size in the line.
The name Ichiban translates to "first" or "number one". It features Japanese themed packaging that was inspired from several Room 101 lines incorporating this theme. The Room 101 Ichiban will feature tissue wrapped cigars with outer sleeves that feature the Room 101 Sakura brand mark as well as a Japanese wave pattern. Each cigar features a customized secondary band with the shop name.
The Ranfla size is large perfecto. The size is a popular size in the Room 101 portfolio that has been seen across several lines int he portfolio.
In a press release, Matt Booth said, "It is my great honor to welcome the good folks from Doc James into our select family of Ichiban retailers. Both of their locations are some of my favorite stores to visit in the country and we are very proud to have joined forces with them for this bespoke series."
As with each installment of the Room 101 Ichiban series, production will be limited to 1,000 boxes of ten. The first installment was the 6 x 44 Tiburon that went to Old City Smokin' Joe's Cigars in Knoxville, Tennessee. The second one was the 4 x 48 Roxxo that went to Cigar Realm in Ashland, Virginia.
Booth will be in attendance at three launch events. The first event will feature a golf tournament at Trump National on Monday, May 18th. On May 19th, a second launch event will be held at Doc James in Shrub Oak followed by another event at the shop's Mamaroneck location on May 20th.
At a glance, here is a look at the Room101 Ichiban line.
Blend Profile
Wrapper: Habano Ecuador
Binder: Nicaraguan Criollo 98
Filler: Nicaraguan Corojo 99
Country of Origin: Honduras (AgroIndustrias Laepe, S.A)
Vitolas Available
Ranfla: 6 1/2 x 30 x 50 x 19 (Doc James – New York)
Roxxo: 4 x 48 (Cigar Realm – Ashland, VA)
Tiburon: 6 x 44 (Old City & Smokin' Joe's Cigars – Knoxville, TN)