Agile Cigar Reviews replace what we termed "Assessment Updates". The concept is the same, but the name is different. Agile Cigar Reviews use a lightweight, shorter format. These will never take the place of our comprehensive reviews. They are only used on blends we have previously assessed. This might be a blend we are re-scoring or providing a score for a first time. It might be a blend we are looking at in a different size. Today we take another look at the Camacho Ecuador in the Toro format. This is a cigar first assessed back in June, 2014.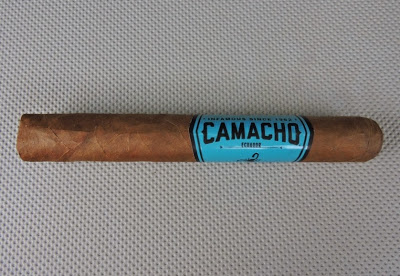 Camacho Ecuador Toro

Wrapper: Habano Ecuador
Binder: Brazilian Mata Fina
Filler: Corojo, Criollo Ligero, Pelo de Oro (Honduras and Dominican Republic)
Country of Origin: Honduras (Agroindustras Laepe, S.A.)
Toro: 6 x 50
The Camacho Ecuador is the seventh core line to be released by Camacho Cigars since the company initiated its "Bold Standard" campaign in 2013. This campaign not only involved rebranding their cigars with a new logo and new packaging, but it also involved line consolidation and blend changes. The company launched six core line releases under the Camacho line. In terms of the Camacho Ecuador, this cigar is an entirely new line and a new blend. The name comes from the fact that this cigar features a Habano Ecuador wrapper, but its a true muli-national blend also incorporating a Brazilian Mata Fina binder and fillers from Honduras and the Dominican Republic. Today, we revisit this cigar in the Toro format.
When I first first reviewed the Camacho Ecuador I found this to be a full strength, full-bodied cigar. Since then I've found both attributes to dial back a little and I put them now into the upper end of the medium to full range. However it still has plenty of boldness and delivers outstanding flavor. The Camacho Ecuador delivers notes of red pepper, cedar, earth, and a chocolate cream note that really smooths out this flavor profile. This is also a cigar you want to retro-hale as you will experience another dimension of both the power and flavor of this cigar.
Overall this was a great addition to the Camacho portfolio last year – and continues to shine It still keeps to the "bold standard" of the brand. This is a great regular production offering and a box worthy one.
Summary
Burn: Excellent
Draw: Excellent
Complexity: Medium
Strength: Medium to Full
Body: Medium to Full
Finish: Good
Assessment: 4.0 – Box Worthy
Score: 91 (Original Score – 92 *)
* Scored under 2014 Scoring System versus a modification for 2015.
References
Original Assessment: Camacho Ecuador
News: Camacho Ecuador
Price: $7.00
Source: Purchased
Stogie Geeks Podcast: Episode 98
Stogie Feed: Camacho Ecuador Toro