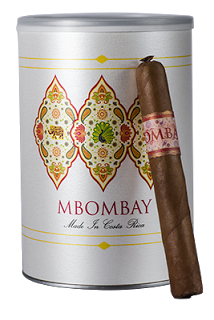 In 2001, Mel Shah opened a store in Palm Springs, California.  As a retailer, Shah built up contacts of farmers and tobacco dealers in Ecuador and Nicaragua.  Shah then had a vision for how he wanted to roll and ferment tobaccos.  He had a challenge to find a factory to carry out his vision, and eventually this led him to Costa Rica where he now he is now producing his cigars.
In a short time, Shah has built up five lines:
Classic: Ecuadorian Connecticut wrapper
Corojo Oscuro: Ecuadorian Corojo wrapper
Mora: Dominican Corojo wrapper
Kesara: Ecuadorian DesFlorada wrapper
Habano: Ecuadorian Habano wrapper
One constant that Shah has integrated into each of lines is Peruvian tobacco.  Shah calls the Peruvian tobacco an "X Factor".  He compared it to putting a "pinch of salt" in food.  Shah says he got fascinated with Peruvian tobacco and found it blossomed with age and fermentation.
Over the past month, MBombay introduced packaging in cedar line cans.  Shah discusses how this was introduced intentionally because he felt some of the flavor and aroma of cigars was lost with traditional boxes.
Shah was recently a guest on Stogie Geeks where he talked about his story: