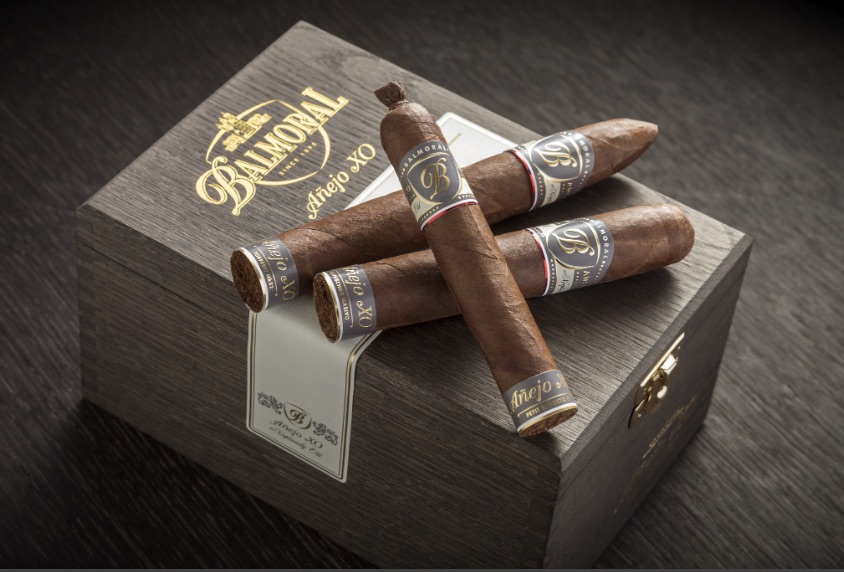 Royal Agio Cigars has new line called Balmoral Anejo XO. The Balmoral Anejo XO is considered a follow-up to the company's Balmoral Royal Selection Anejo 18. The Anejo 18 was a limited production that was gated by the availability of a rare 18 year old Brazilian Arapiraca wrapper. In order to continue Anejo a line based on aged tobaccos, Royal Agio is now introducing the Anejo XO. Royal Agio says the new Anejo XO is available now and the cigar is expected to be showcased at the 2015 IPCPR Trade Show.
In a press release announcing the Balmoral Anejo XO, Royal Agio Cigars CEO Boris Wintermans said, "In my quest for the perfect Anejo blend, I have had the privilege to be able to work with the finest and most exquisite tobaccos in the world. The most recent creation to come out of this journey was, of course, the Anejo 18, crowned with an 18 year old Brazilian 'Sungrown' Arapiraca wrapper, and made by hand at our own factory in San Pedro de Macoris, Dominican Republic. After careful selection and tastings, I daresay that I have succeeded in finding a truly worthy successor: the Balmoral Anejo XO."
The company is not disclosing the blend information for the Anejo XO, but the cigars will be available in the same sizes as the existing Anejo 18 line: Rothschild Masivo (5 x 55, SRP $9.90) and the torpedo-shaped Mk52 (6 1/4 x 52, SRP $10.95). A third size will also be available in the Anejo XO line called Petit Robusto FT (FT meaning "Flag Tail") with a 48 ring gauge.
Only this Balmoral Anejo XO can compete with the Anejo 18. All tobaccos used have been thoroughly aged and create a sophisticated and complex aroma that is said to be beyond compare. Medium to full bodied, Royal Agio Cigars describes the Anejo XO's taste as an explosion of aroma's and complexity, with notes of cedar wood, spices, cacao and an underlying sweetness. Wintermans is convinced that the XO rivals the Anejo 18's taste for complexity and subtlety and even ads a bit of extra sweetness and creaminess.
The company also says that while there are still stock of the Balmoral Anejo 18, its availability is becoming more scarce.
The new Balmoral Anejo XO is available to Drew Estate Diplomat retailers. Drew Estate is the exclusive U.S. distributor for Royal Agio Cigars.
Photo Credit: Royal Agio Cigars