Agile Cigar Reviews replace what we termed "Assessment Updates". The concept is the same, but the name is different. Agile Cigar Reviews use a lightweight, shorter format. These will never take the place of our comprehensive reviews. They are only used on blends we have previously assessed. This might be a blend we are re-scoring or providing a score for a first time. It might be a blend we are looking at in a different size. Today we look at the Viaje Summerfest 2015 edition.  For this cigar we assessed several edition, many recently the 2013 version back in August 2013.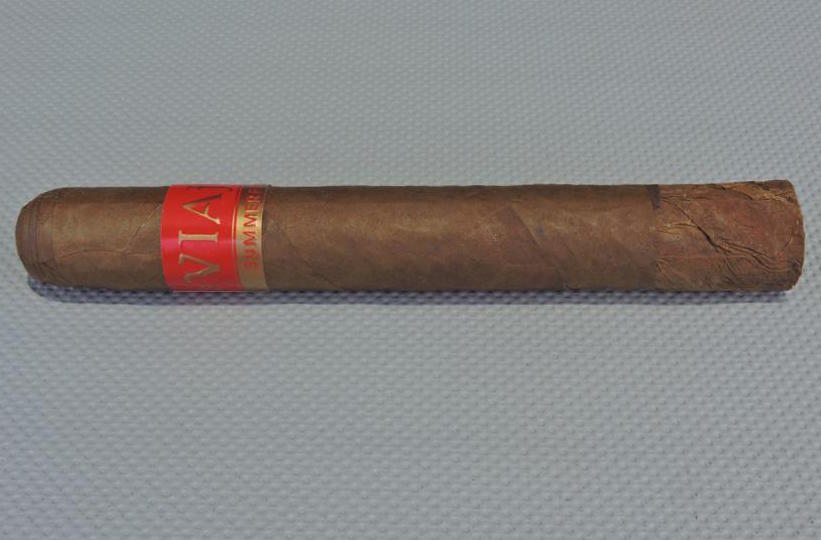 Wrapper: Nicaraguan Corojo 99
Binder: Nicaraguan
Filler: Nicaraguan
Country of Origin: Nicaragua (TABSA)
Toro: 6 x 52
For the fifth time in the past six years, Viaje Cigars has released a small batch of its Viaje Summeriest. After a one year hiatus, the Summerfest returns with the 2015 edition. There are three noteworthy changes with the Summeriest 2015.  First up, production for this year's Summerfest has moved from Raices Cubanas in Honduras to the TABSA factory in Honduras.  Secondly while the Summefest 2012 also featured a Toro, this is in a new size – 6 x 52.  Finally, the unfinished foot that is a staple of this cigar has changed.  It is a softer, "less rough" footer than has been seen in previous editions.
In terms of the blend, the Viaje Summeriest 2015 has a similar blend architecture as previous years.  As per Viaje President Andre Farkas, one thing that differs is that the vintages of the tobaccos vary from year to year – resulting in delivering changes to the cigar experience.
The Summeriest 2015 starts out with some citrus spice during the unfinished portion of the cigar.  Once the cigar burns past the unfinished portion, notes of wood, cinnamon, and a slight cherry sweetness emerge. I found this cigar to have a woody, but not cedar profile.  The cherry, citrus, and cinnamon notes provided a nice complement to the woody profile.  I didn't get much in the way of the raw sugar cane notes I've seen on previous editions of the Summeriest.  Toward the end of the cigar, I found it on the spicy side.
Consistent with the majority of the other Summerfest releases, I found this to be a full-bodied cigar with medium to full strength.
Overall this was a nice release to the Summerfest series.  If one is a fan of this line, one will certainly enjoy this  2015 edition.
Summary
Burn: Excellent
Draw: Excellent
Complexity: Medium
Strength: Medium to Full
Body: Full
Assessment: 3.5 – Box Split
Score: 90
References
Other Assessments: Viaje Summefest 2010, Viaje Summerfest 2013
Price: $9.50
Source: Purchased
Stogie Geeks Episode: Episode 136
Stogie Feed: n/a