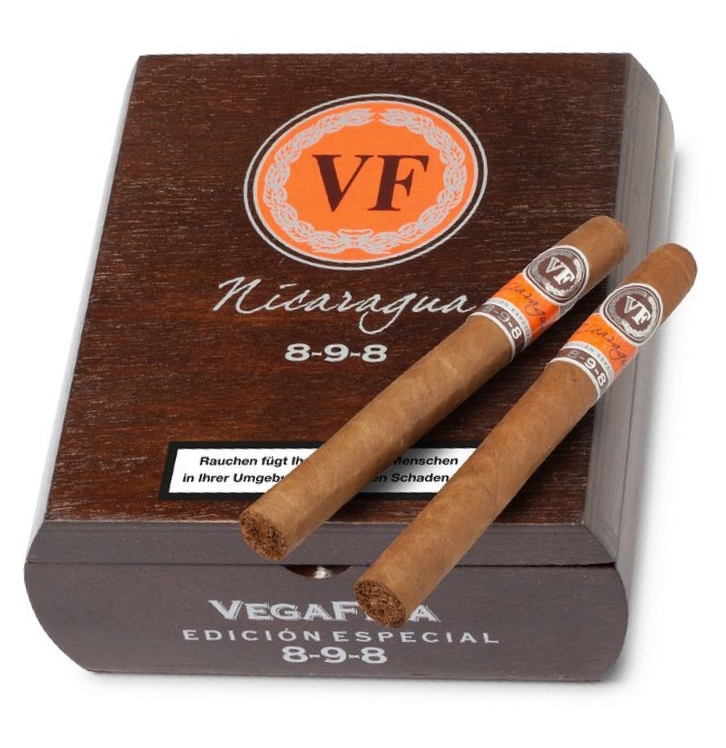 Back at Inter-Tabac 2014, Altadis unveiled VegaFina Nicaragua – the first Nicaraguan puro to the VegaFina brand. This was a line that would make its way to the United States by the end of 2014.  At Inter-Tabac 2015, a new line extension – the VegaFina Nicaragua 8-9-8 was formally showed off.
The VegaFina Nicaragua 8-9-8 draws its inspiration from the Partagas 8-9-8 in both size and packaging.  Similar to the Partagas offering, the VegaFina 8-9-8 is a 6 3/4 x 43 lonsdale. Like the Partagas 8-9-8, the 8-9-8 for the VegaFina offering represents the way the cigars are arranged in 25 count boxes – 8 cigars at the top and bottom and nine in the middle.
The new addition of the VegaFina Nicaragua 8-9-8 brings the total number of vitolas to four. Last year, the three sizes of VegaFina Nicaragua released for Europe would eventually come stateside.
Inter-Tabac is the equivalent of Europe's IPCPR Trade Show. It was held September 18-20 in Dortmund, Germany.