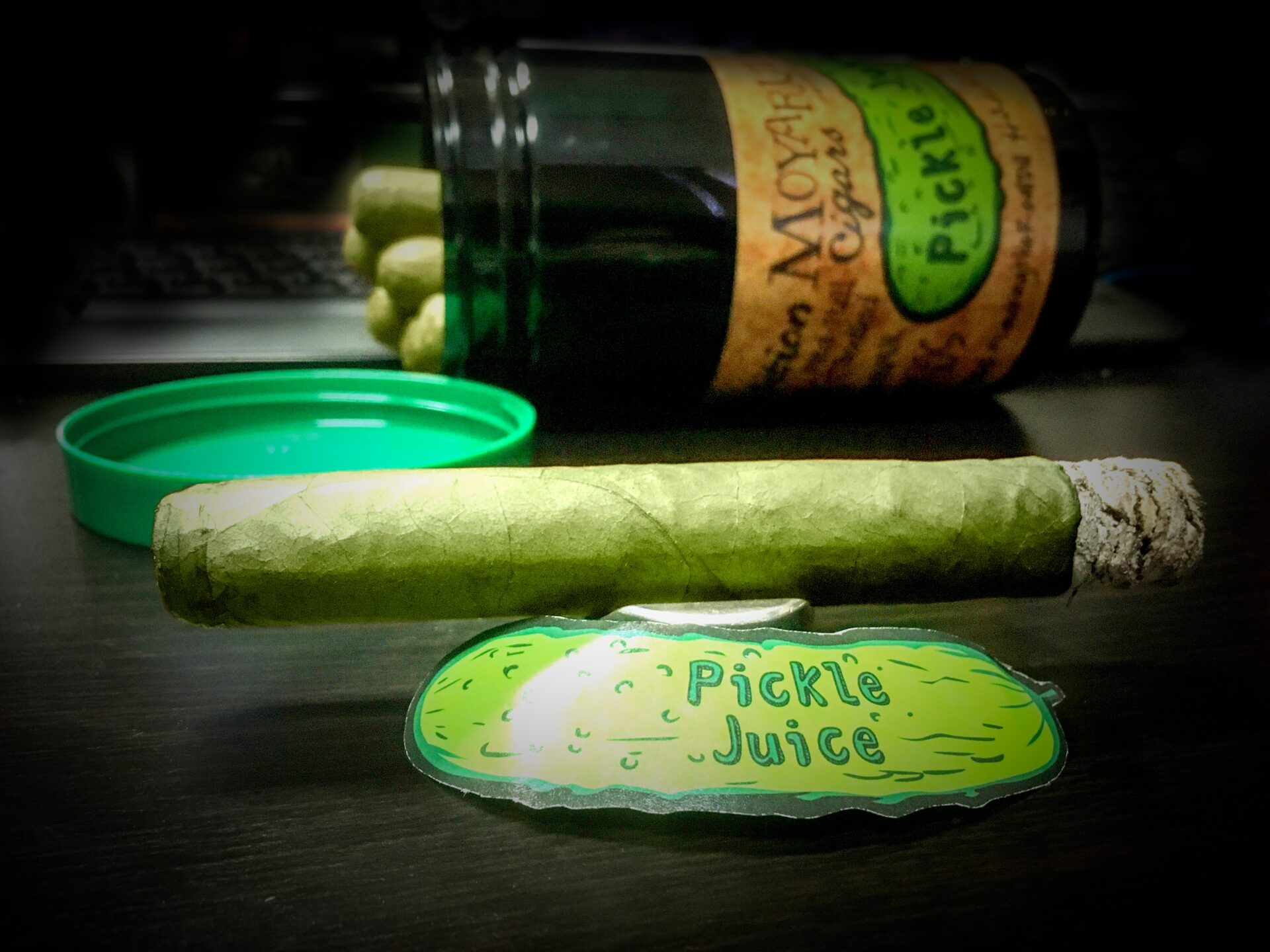 MoyaRuiz Cigars has announced a new limited edition seasonal release coming in time for St. Patrick's Day called Pickle Juice. St. Patrick's Day is typically a time of the year when companies will unveil green colored candela (double claro) wrapped cigars. Pickle Juice falls into this category and is slated to become MoyaRuiz's first candela release. In addition, it will also be the first candela release to come out of the factory MoyaRuiz uses – Erik Esponosa's  La Zona factory.
The project started when MoyaRuiz co-owner Danny Moya was reading an article about the strange drinks and pickle juice was one of them. The name stuck with Moya. A little over a month later, Moya learned that La Zona Director of Factory Operations Hector Alfonso, Sr. had developed some blends with a candela wrapper. Maya saw an opportunity to do a cigar project with this theme. The blends were then sampled and the wheels for the Pickle Juice project were put in motion.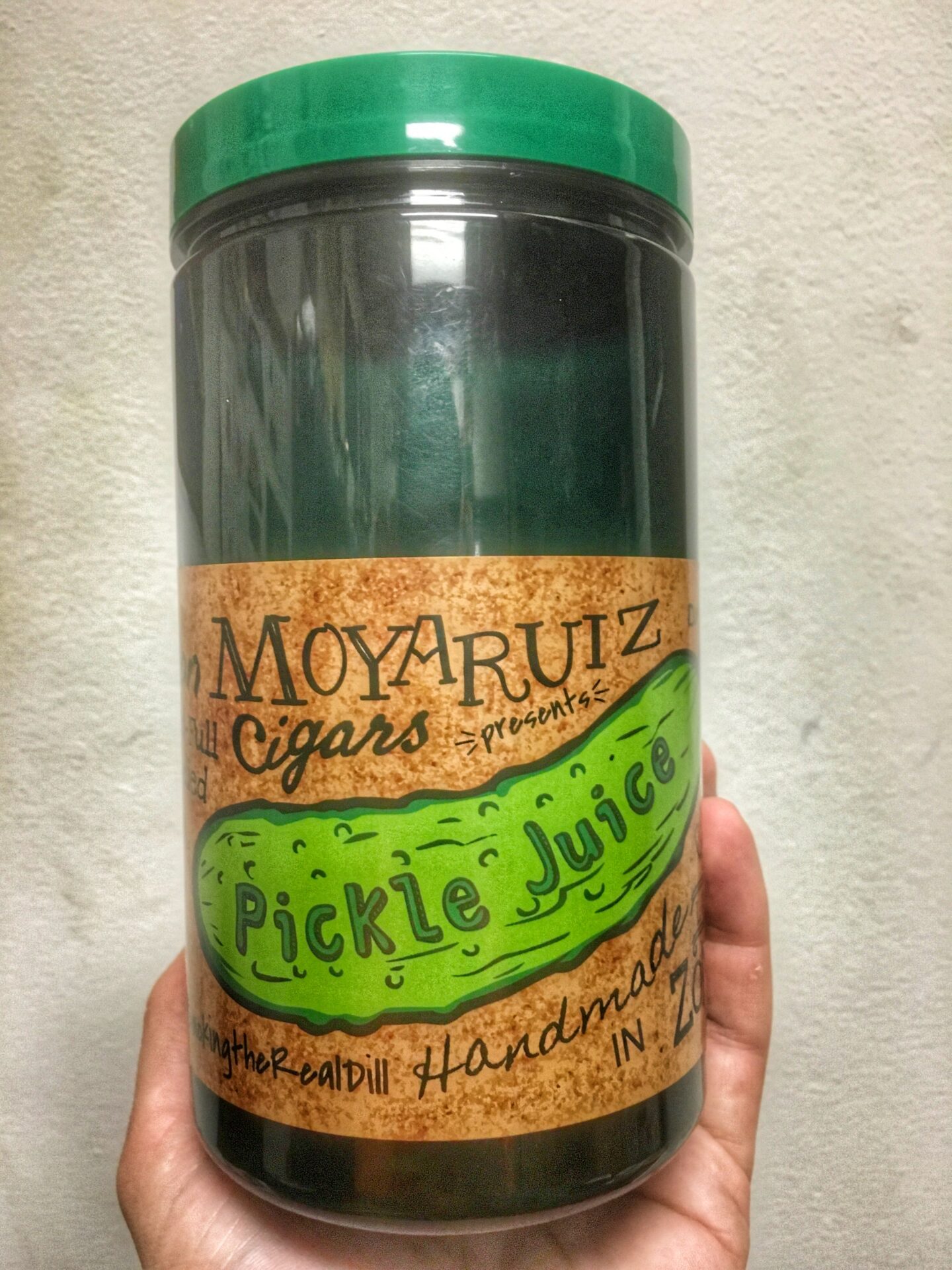 MoyaRuiz is also incorporating the whole pickle juice theme on the packaging of the release. The cigars will be packaged in a green colored plastic jar.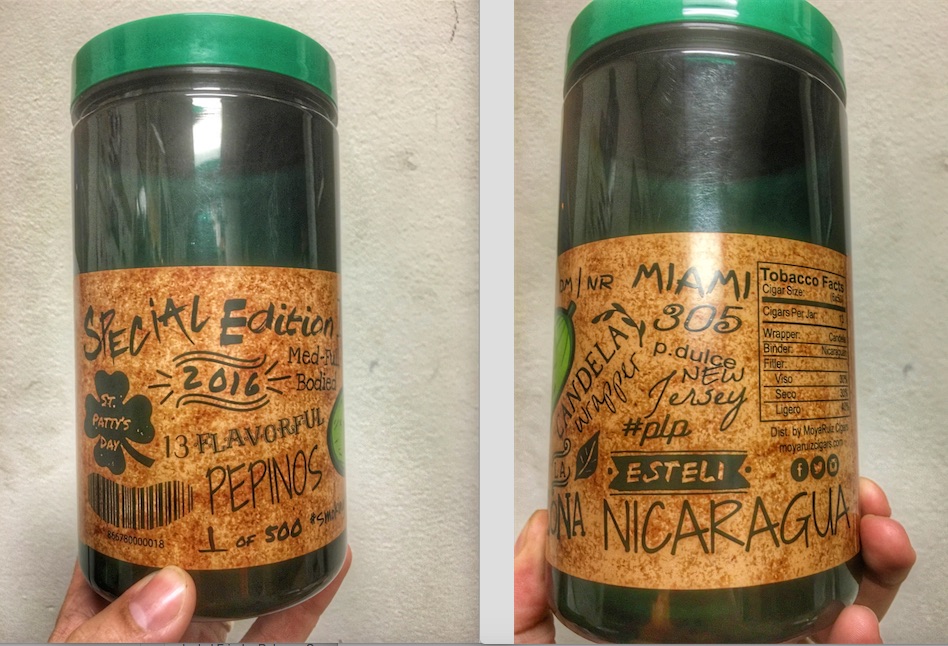 The labeling contains references to New Jersey (where MoyaRuiz co-owner Danny Moya hails from) and Miami 305 (MoyaRuiz co-founder Nelson Ruiz hails from South Florida). In addition there is a "Tobacco Facts" panel that represents the equivalent of a "Nutritional Facts" panel.
The blend for Pickle Juice is an all Nicaraguan blend draped by a green-colored candela wrapper. Pickle Juice will be available in a single size – a traditional 6 x 50 Toro.
Each jar will contain 13 cigars. The total production will be 500 jars. Another unique feature is that each of the jars are invididually hand-numbered. The total cigar production for the jars will be 6,500 cigars, but there is an additional 500 cigars that have been made making the total production 7,000 cigars.
MoyaRuiz will select 50 retailers to receive Pickle Juice. Co-founder Danny Moya informed Cigar Coop that the Pickle Juice allocation will be dividing evenly among the select retailers with reach receiving ten jars. At press time, the 50 retailers has not been announced.
Moya also told us that Alfonso did "an amazing job" with the blend. He describes this as a blend that is a blend he is excited for people to try because it is very different than your traditional candela cigar.
At a glance, here is a look at the MoyaRuiz Pickle Juice.
Blend Profile
Wrapper: Candela
Binder: Nicaraguan
Filler: Nicaragua
Country of Origin: Nicaragua (La Zona SA)
Vitolas Available
MoyaRuiz Pickle Juice will be available in one size – a 6 x 50 Toro.