Agile Cigar Reviews replace what we termed "Assessment Updates". The concept is the same, but the name is different. Agile Cigar Reviews use a lightweight, shorter format. These will never take the place of our comprehensive reviews. They are only used on blends we have previously assessed. This might be a blend we are re-scoring or providing a score for a first time. It might be a blend we are looking at in a different size. Today we look at the Rocky Patel Vintage 2003 Cameroon in the Torpedo. This is a cigar we have assessed back in September, 2011 in the Robusto size.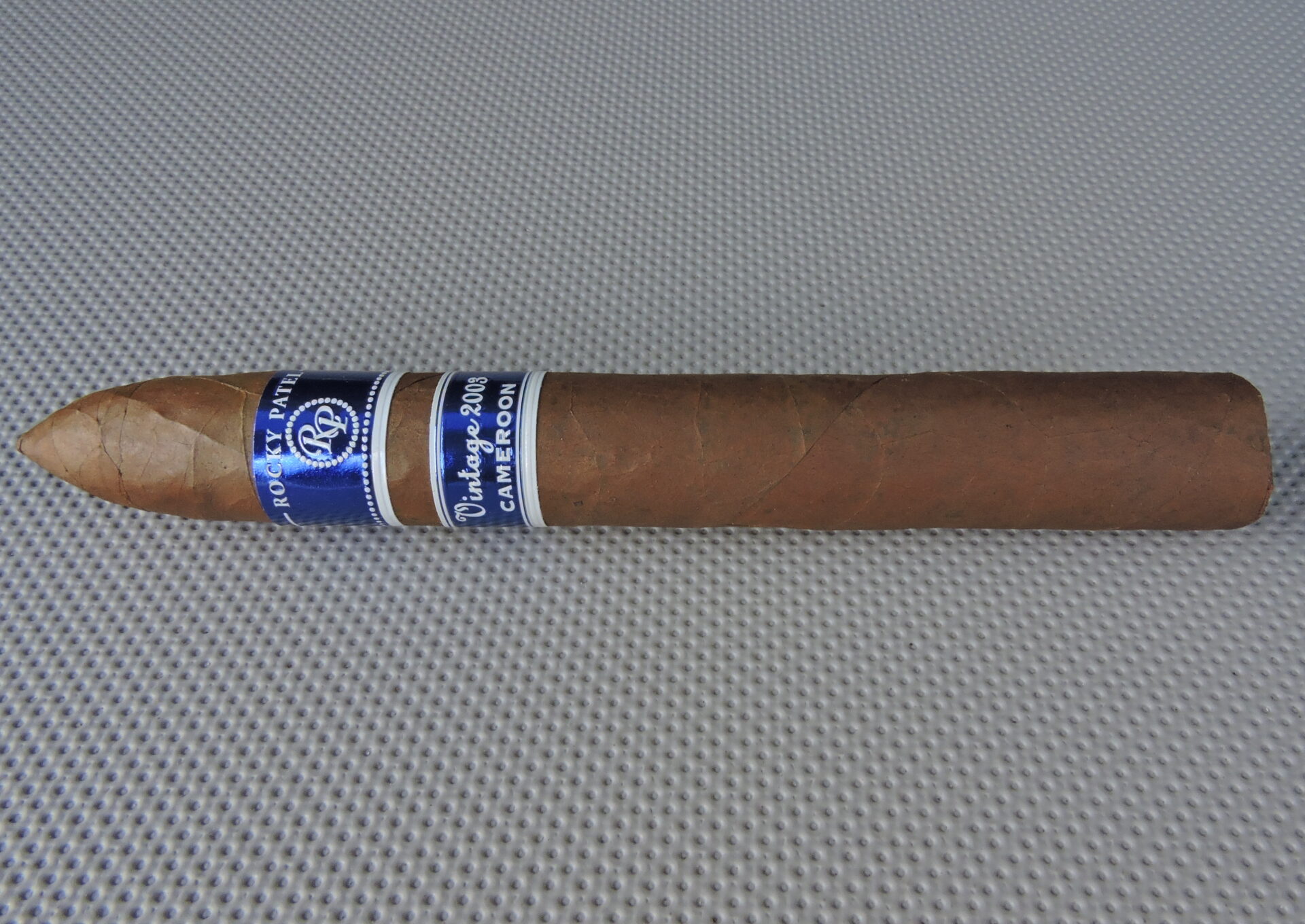 Wrapper: Cameroon
Binder: Nicaraguan
Filler: Dominican, Nicaraguan
Country of Origin: Honduras
Torpedo: 6 1/4 x 52
In 2011, Rocky Patel Premium Cigars released its first Cameroon blend called the Rocky Patel Vintage 2003 Cameroon. This would become the fourth installment under the Vintage Series line joining the 1990 (Broadleaf wrapper), 1992 (Ecuadorian Sumatra), and 1999 (Connecticut). The Vintage 2003 Cameroon was a winner on Cigar Coop and it finished as the Cigar Coop #15 Cigar of the Year for 2011. Today we take another look at this cigar, but this time in the Torpedo format.
The 2003 on the name is significant because that is the year that Rocky Patel started putting his name on his cigars. The Vintage 2003 Cameroon was first contains 8 year old tobacco and when it was first released in 2011, the year 2003 was the vintage many of these tobaccos could be traced to.
The Rocky Patel Vintage 2003 Cameroon delivers a flavor profile consisting of coffee, natural tobacco, citrus, white pepper, and caramel. The caramel note starts out subtle, but it intensifies during the second this before diminishing at the end of the cigar experience. I also found the white pepper kicked it up a notch during the last third. The notes are medium to full-bodied. The strength level starts out medium before progressing to medium to full in the second third.
It's almost 4 1/2 years since the Rocky Patel Vintage 2003 Cameroon was first released – and this is still very much a blend that smokes like a Top 15 cigar. I particularly liked the torpedo format and how comes of the flavors concentrated better. This is definitely a cigar I'd recommend to a novice or experienced cigar enthusiast. It's one worthy of a box purchase.
Summary
Burn: Excellent
Draw: Excellent
Complexity: Medium
Strength: Medium (1st 2/3), Medium to Full (Last Third)
Body: Medium to Full
Finish: Finish
Assessment: 4.0-Box Worthy
Score: 92
References
Original Assessment: Rocky Patel Vintage 2003 Cameroon (Robusto)
News: Rocky Patel Vintage 2003
Price: $9.70
Source: Cigars Provided by Manufacturer
Stogie Geeks Podcast: Episode 175
Stogie Feed: Rocky Patel Vintage 2003 Cameroon Torpedo