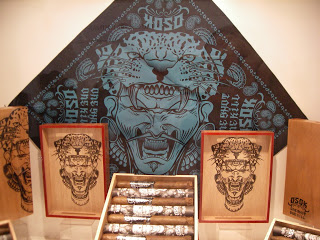 At the 2015 IPCPR Trade Show, Edgar Hoill Cigars, the namesake brand of Edgar Hoill under CLE Cigar Company launched two new Honduran blends – Everyday Hustle and OG OSOK. However, since then things have been quiet for Hoill and the brand. This year, things will change as Hoill will have a more active presence in the brand.
It turns out Hoill had taken some time from being on the road in the cigar industry due to other commitments he had with book signings.  Plans are for Hoill to be more active at retail shop events this year.
CLE Cigar Company said that Hoill will attend this year's TAA beginning March 6th in Puerto Vallarta, Mexico. It turns out, this won't be a far trip as Hoill has recently moved back to his home country of Mexico to be closer to his family. "I love Southern California, but Mexico is home. All my family is there and I am really grateful to have more time to spend with them now" commented Hoill in a press release.
Hoill is best known as a photographer for his precision style that became known as "One Shot One Kill".  In 2012, Hoill established a name in the cigar industry in 2012 as he collaborated with Room 101's Matt Booth on the limited release Room 101 OSOK (One Shot One Kill – named for Hoill's style).  Later that  year, Hoill moved over to CLE Cigars becoming the brand owner of Edgar Hoill Cigars. He would take the OSOK name with him.