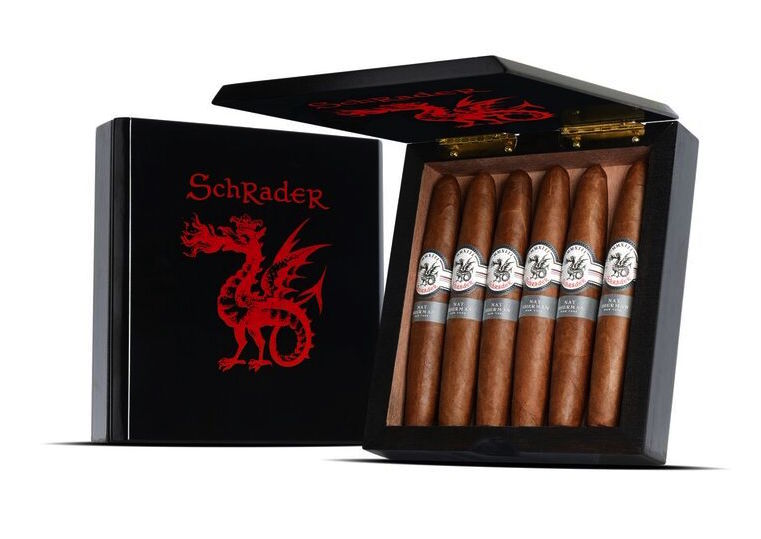 Schrader Cellars, owned and operated by Fred Schrader has announced its second cigar, the Limited Edition Schrader MMXIII. The project was done in conjunction with Schrader's long-time friend, Nat Sherman Vice President of Retail and Brand Development Michael Herklots at the Quesada Cigars factory. Plans are for the Schrader MMXIII to launch May 17th at the Nat Sherman Townhouse in New York City and will be available at retailers that carry Nat Sherman products.
Schrader is a Napa Valley California winemaker best known for his Schrader Cabernet Sauvignons – which have earned 17 perfect 100 point scores. He also turned a childhood passion of racing in soapbox derbies into racing Formula Ford Cars and Aston Martins. In 2012, he achieved a podium finish at the Aston Martin Festival Le Mans in France.
He is also a cigar enthusiast who has previously released a cigar blend. It was in 2010 when the Schrader Hispaniola Doco-Est MMIX, a salomon-shaped cigar was released.
The new Schrader MMXXIII nicknamed, the "Sparky Two" consists of a Dominican wrapper and finder as well a filler of tobaccos from Nicaragua, Peru, and the Dominican Republic. The cigar is described as a "unique 'perfecto' shape", at 6 inches long, with a 42 ring gauge open foot, and expanding to a 60 ring gauge center before tapering back to a 38 at the cap.  "This format (perfecto) provides a profound platform for development of flavor and aroma, much like how a wine can change in the glass, and throughout the bottle," commented Herklots in a press release.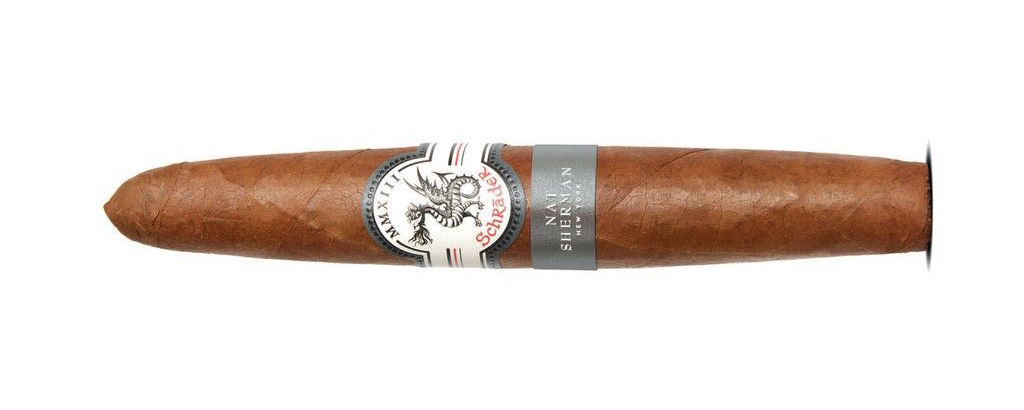 The cigar is being released in six pack boxes priced at $84.00 per box. The boxes have a black piano finish and feature the Schrader dragon logo. The cigars were aged in the Dominican Republic prior to release.
In a press release announcing the Schrader MMXIII, Fred Schrader commented "Next to my endeavors in wine, making cigars is the most exciting challenge I have embraced. This new release Sparky cigar has been a three-year project, during which time my close friend Michael Herklots and I tried 12 different prototypes before we found what we believe to be perfection. We truly believe we have achieved an unparalleled cigar experience, balanced and satisfying. We are now proud to share our creation with our friends and as they say — the proof is in the smoke!"
"We took our time to make sure we created an experience that would appeal to both Schrader and Nat Sherman customers alike, as well as enthusiasts of great wine and cigars globally," said Michael Herklots, "We listened to the feedback on our first Schrader cigar, and channeled those comments into building our new blend. It's spectacular."
At a glance, here is a look at the Limited Edition Schrader MMXIII:
Blend Profile
Wrapper: Dominican
Binder: Dominican
Filler: Nicaraguan, Peruvian, Dominican
Country of Origin: Dominican Republic (Quesada Cigars SA)
Vitolas Available
The Limited Edition Schrader MMXIII is available in one size – a perfecto measuring 6 x 38 x 60 x 42.
Photo Credits: Nat Sherman