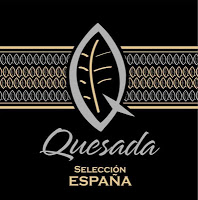 Union Cigar Company, located in Monroe, North Carolina has been selected as a retailer to receive the June 2016 shipment of the Quesada Seleccion Espana A- (minus). The cigar is part of a program where for each month in 2016, Quesada Cigars selects one retailer to receive ten boxes of ten cigars of a limited edition 8 1/2 x 48 vitola of the Quesada Espana.
The Quesada Seleccion Espana made its debut in 2011 at the ProCigar festival. It was originally intended for the cigar market in Spain, but based on demand it was released to the U.S. market. The blend contains a Arapiraca wrapper grown in Ecuador, a Dominican binder, and filler consisting of Dominican, Nicaraguan, and Connecticut Broadleaf tobacco.
This is the fourth year that Quesada has implemented a "retailer a month" concept around special limited edition vitolas of the Quesada Selection Espana. The program was launched in 2013 when the  7 x 38 Quesada Seleccion Espana Lancero was released monthly to twelve shops. This was followed up in 2014 by the 7 x 33 Quesada Seleccion Espana Ninfa and by the Quesada Seleccion Espana Petit Belicoso for 2015.
Quantities of these cigars are extremely limited. For the 2013 and 2014 programs, one box of fifty cigars was released to each selected retailer. For Petit Belicoso  in 2015, retailers received one box of 100 cigars. While for 2016's "A" size, each retailer will still receive only 100 cigars; the allocation will be in ten count boxes.
Union Cigar Company is owned by Nathan Sumner. The shop gets its name from the North Carolina county where it is located. The Quesada Seleccion Espana A is the second cigar under the "retailer a month" program that Union Cigar Company has received. Last year, the shop received the Quesada Selection Espana Petit Belicoso.
At a glance, here is a look at the Quesada Selection Espana:
Blend Profile
Wrapper: Arapiraca (grown in Ecuador)
Binder: Dominican
Filler: Dominican, Connecticut Broadleaf, Nicaraguan
Country of Origin: Dominican Republic (Quesada Cigars Factory)
Vitolas Available
A-: 8 1/2 x 48 * (Limited Production for 2016) *
Robusto: 5 x 52
Petite Robusto: 4 x 50
Corona: 5 1/2 x 42
Lancero: 7 x 38 (Limited Production for 2013, then Shop Exclusive for Stogies World Class Cigars in Houston, TX) *
Ninfa: 7 x 33 (Limited Production for 2014) *
Petit Belicoso: 4 1/2 x 40 (Limited Production for 2015) *
JFH 25th Anniversary (Perfecto): 4 3/4 x 38/58/44 (Shop Exclusive for Just for Him, Springfield, MO)
Churchill: 7 x 47 (Shop Exclusive for Federal Cigar – 94th Anniversary Cigar)
Beli-Lance: 7 x 40 (Shop Exclusive for Casa de Montecristo)
Fabulosos: 7 x 54 (Shop Exclusive for Casa de Montecristo)
* Part of Quesada's one retailer a month concept
Note: Corrected story as name of the cigar A-