Chinnock Cellars Cigars limited edition hand-infused cognac cigar is making a return – but with a new name and a new cause.
On Episode 193 of Stogie Geeks, Brian Chinnock of Chinnock Cellars Cigars said the cognac-infused Chinnock Cellars XOXO was being re-branded the Chinnock Cellars T.L.P.. The T.L.P. stands for Terry Lynn Paiva, the late wife of Chinnock who passed away earlier this year due to complications from diabetes.
After talking with several people in the industry, Chinnock decided to make a cigar to honor is wife and raise money for American Diabetes Association (ADA). The overall goal of the project is to raise $25,000.00. Chinnock said $10,000.00 has already been raised, and a 100% of the proceeds from the sales of  T.L.P. will go to the ADA. Chinnock also said he is absorbing the costs to make the cigar
Like its predecessor the XOXO, the T.L.P.  is a collaboration with El Titan de Bronze and involves hand-infusing some of the world's most expensive cognac into the cigar. The infusion is done by spraying the tobacco leaves that go into the product.
According to Chinnock, the cigar features an Ecuadorian Desflorado wrapper, a double Nicaraguan binder, and a combination of Dominican and Nicaraguan filler. Chinnock said the blend of T.L.P. has been tweaked from what was originally released with XOXO. The T.L.P. will still be offered in the same 6 x 52 Toro size. Pricing will be $30.00 per cigar.
Each cigar will continue to be packaged in an individual glass tube. Keeping to Chinnock Cellars' roots in the wine industry, the tube has the same capsule that is seen on a wine bottle (see photo below).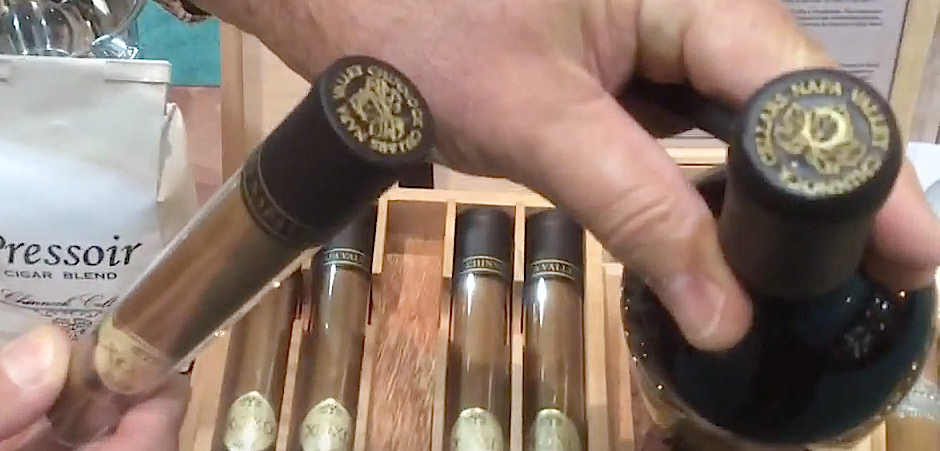 Production will of the T.L.P. will be limited to 200 boxes of five-count piano finished boxes..  This is a slight increase over the 100 boxes of five made of the XOXO. Inside each box will contain an insert talking about Piava's life, the ADA, and how donations can be made. Chinnock says the cigars will be offered to his Chinnock Cellars Lounge accounts first and then will be showcased at the 2016 IPCPR Trade Show.  Chinnock Cellars Lounges will get ten boxes and the remaining shops will get five boxes on a first come, first serve basis.
Going forward, T.L.P. will continue to be an on-going limited production blend, but due to the pending FDA regulations, it will not be offered with the cognac infusion.
Chinnock explains more about the project during his appearance on Episode 193 of Stogie Geeks.