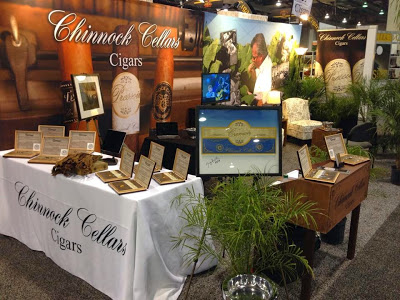 Photo Credit: Brian Chinnock, Facebook
Brian Chinnock, owner of Chinnock Cellars Cigars was a special guest on Episode 139 of Stogie Geeks and broke news of his plans for IPCPR 2015. Chinnock announced a unique, limited edition project called Chinnock Cellars XOXO.

While Chinnock Cellars has established a reputation for bringing together elements of wine-making with cigars, Chinnock went in a different direction here. The name XOXO pays reference to the XO grade of Cognac. The XOXO cigar will incorporate cognac that is hand-infused into the tobacco of the blend. Chinnock says this is some of the most expensive cognac in the world has gone into the production.
For the XOXO, Chinnock returns to El Titan de Bronze, the factory in Little Havana where he released his early lines – and who still makes the Terroir cigar. He partnered with El Titan de Bronze owner Sandy Cobas on the project. Cobas came up with the concept for infusing the cigar by hand-spraying all components of the cigar – wrapper, binder, and filler. The cigars are then set sealed in a huge "tupperware container" so they do not lose the aromatics.
On the head of each cigar is what Chinnock describes as a "bun" that Chinnock worked on with co-Cobas. and her team. Chinnock said, "It's not just a pig-tail, but its a full bun – it's almost a full 52 ring gauge."
Chinnock also plans on going all out with the packaging. The bands are once again being designed by Manny Iriate – who also designed the bands for the Pressoir and Cremoir lines. The cigars will be packaged in tubes that feature a wine foil covering. The cigars are packaged five per box in a piano black lacquer box.
Production is being limited to 100 boxes for a total of 500 cigars. The cigar will only be offered to current brick and mortars and will only be sold at the trade show. Each brick and mortar is only being limited to five boxes. Depending how the project is received, Chinnock may be open to similar limited edition projects down the road.
Chinnock isn't disclosing blend information just yet, but did say the cigar is a "marriage between Terroir and Cremoir".
"It's going to be a fun thing to do. I just wanted to do something over the top," commented Chinnock.
The Interview
Here is the full interview with Brian Chinnock from Chinnock Cellars Cigars.