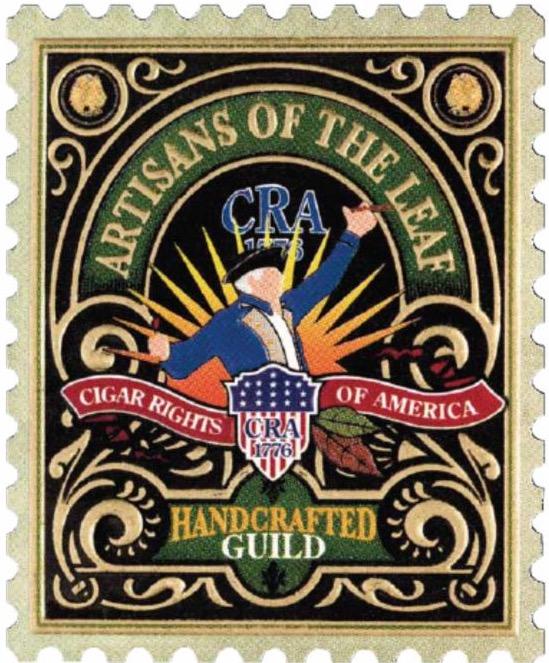 Cigar Rights of America (CRA) has introduced a new program to benefit those cigar companies and manufacturers who are assisting CRA with its on-going efforts. At the 2016 IPCPR Trade Show, CRA will roll out "The Stamp" program – an effort recognize those who are supporting the organization's efforts around legislative program, litigation, and growing the grassroots network of cigar enthusiasts.
Under program, a Stamp will be affixed to cigar boxes made by CRA corporate sponsors. The stamp features a colorful depiction of the CRA logo. The stamp was designed by acclaimed cigar logo artist Manny Iriarte of Iriarte Photography & Design. Cigar Rings is both producing the stamp contributing it as a part of CRA's efforts.
According to CRA Executive Director J. Glynn Loope, "We wanted to develop a program to recognize those companies that have been and are advancing the cause of CRA as a movement among patrons of great premium cigars, for their resources that have advanced the legislative agenda of CRA in Washington and across the nation, and are giving to this partnership between the manufacturers, community retail tobacconist and consumers of premium handmade cigars."
In support of "The Stamp" program, CRA will also launch a national promotional campaign to recognize those companies donating and supporting CRA. This will include a series of in-store events with consumers and the supporting CRA companies.
"Now more than ever, with the proposed federal regulation issue and the onslaught of state and local smoking bans, tax and related regulatory issues, patrons of these great cigar companies need to be engaged in the political process in defense of the industry. It is important to us that everyone knows of the companies that are engaging with us in this long-term process to defend the simple enjoyment of cigars, and the stamp helps us do that," added Loope.
In addition, at the IPCPR trade show in Las Vegas, participating companies will have promotional materials in their booth noting their support of CRA. The company also has plans to unveil a new "Honor Roll" program as well with details forthcoming.