Agile Cigar Reviews replace what we termed "Assessment Updates". The concept is the same, but the name is different. Agile Cigar Reviews use a lightweight, shorter format. These will never take the place of our comprehensive reviews. They are only used on blends we have previously assessed. This might be a blend we are re-scoring or providing a score for a first time. It might be a blend we are looking at in a different size. Today we look at the Indian Motorcycle Maduro in the Churchill size. This is a cigar line we have previously assessed in the Toro size back in April, 2015.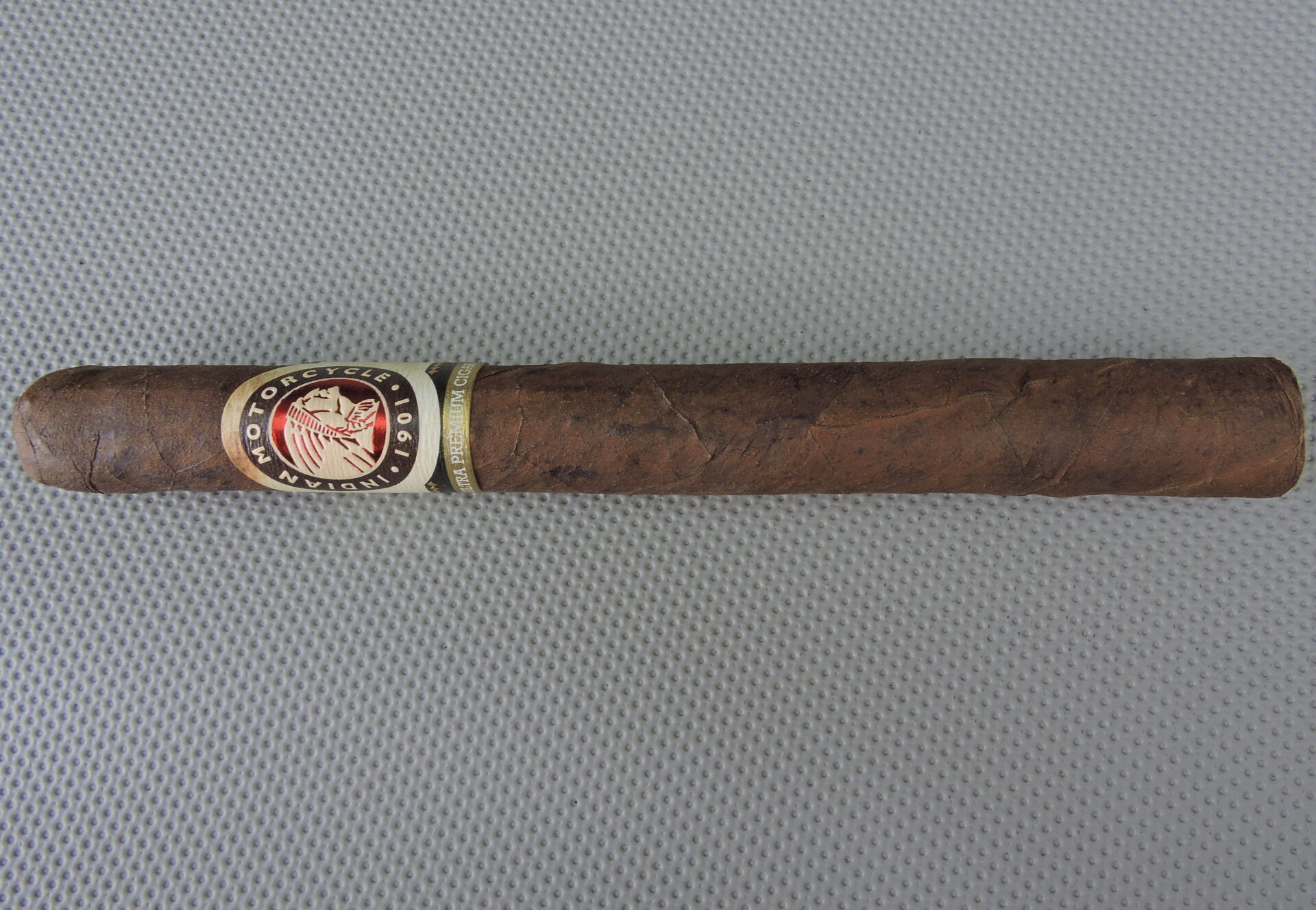 Wrapper: Connecticut Broadleaf
Binder: Dominican San Vincente
Filler: HVA Ligero, Nicaraguan Seco, Piloto Cubano
Country of Origin: Dominican Republic (De Los Reyes)
Churchill: 7 1/2 x 50
In 2014, Phil Zanghi's Debonaire House launched a new brand called Indian Motorcycle Ultra Premium Cigars that pays homage to the iconic American-made motorbike. Late in 2014, Zanghi re-acquired the rights to the Indian Tabac trademark (Indian Tabac was originally a partnership between Zanghi and Rocky Patel). Instead of bringing back Indian Tabac, Zanghi opted to go in a different direction and launch the Indian Motorcycle Ultra Premium Cigars brand. Two blends were released, a Habano and a Maduro.  Today, we take a look at the Maduro in the Churchill size.
For the Indian Motorcycle Maduro, Zanghi opted to go with a Connecticut Broadleaf wrapper over a Dominican San Vincente binder and a combination of Dominican and Nicaraguan fillers. As with all Debonaire House cigars, it is produced at the De Los Reyes factory in the Dominican Republic. This Churchill is almost the size of a Double Corona – measuring 7 1/2 x 50. The samples smoked for this assessment had approximately 13 months of age on it.
The Indian Motorcycle Maduro Churchill delivered notes of mocha, earth, red pepper, cedar, and some occasional grassy notes. There also was a creamy texture throughout the smoking experience that smoothed out the cigar experience. I usually describe a mocha note as a combination of coffee and chocolate. In the case of the Indian Motorcycle Maduro Churchill, the chocolate and coffee components alternated in intensity delivering some nice variety.
The first 3/5 of the Indian Motorcycle Maduro Churchill saw a medium strength / medium-bodied smoke. During the last 2/5, both attributes progressed to medium to full. There was an increase in the red pepper and cedar spice. Some of the creaminess diminished as well, however the Churchill still remained flavorful right until the end.
The Indian Motorcycle Maduro is probably one of the more underrated blends under the Debonaire House brands – and the Churchill might be the most underrated size in the Indian Motorcycle Maduro line itself. Overall, I found this to be an excellent cigar. I also found this was a cigar that has responded very well to age. It's a cigar that I'd recommend to an experienced cigar enthusiast, but would not discourage a novice from trying. As for myself, it's a cigar I would smoke again – and it's certainly box worthy.
Summary
Burn: Excellent
Draw: Excellent
Complexity: Medium
Strength: Medium (1st 3/5), Medium to Full (Remainder)
Body: Medium (1st 3/5), Medium to Full (Remainder)
Finish: Very Good
Assessment: 4.0-Box Worthy
Score: 92
References
Previous Assessment: Indian Motorcycle Maduro Toro
News: Spotlight on Debonaire and Indian Motorcycle Ultra Premium Cigars
Price: $8.70
Source: Purchased
Stogie Feeks Podcast: Episode 165
Stogie Feed: Indian Motorcycle Maduro Toro
Brand Reference: Indian Motorcycle Ultra Premium Cigars
Photo Credit: Cigar Coop